Wherever they take their topless protests against sexism and oppression, the women of the Femen movement cause, at the very least, quite a stir. Last week, they issued a call in European cities for a "Topless Jihad" as a sign of support for Tunisian Amina Tyler, who posted a topless picture of herself online last month with the words 'My body belongs to me' written across her chest.
When ultra-conservative clerics called for her to be put to death by stoning, Femen sprung into action to protest on Tyler's behalf. They turned out in front of Berlin's oldest mosque, for example, and in Paris in front of the Tunisian embassy in Paris. The women had written slogans on their bodies, like 'Free Amina,' as well as others using less family-oriented expletives.
Backlash from Muslim women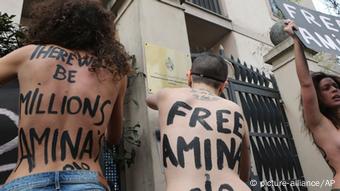 Femen protesters outside of the Tunisian Consulate in Milan
Over the weekend, Tyler said on French television that she was happy about the solidarity. But when Femen burned a flag with the Muslim profession of faith on it in front of a mosque in Paris, Tyler said that went too far.
"They didn't just insult some Muslims, but all Muslims," she said.
She added that the attention has made her fear for her life, and she is considering leaving Tunisia.
Femen's unwillingness to compromise in their actions and provocative slogans written on their bodies and signs has rubbed some people the wrong way. After the "Topless Jihad," a group calling themselves Muslim Women Against Femen posted on Facebook that they considered Femen to be anti-Islamic and imperialistic.
Crude feminism
Hilal Sezgin is an author and journalist who writes about women's issues and Islam for German publications. She is critical of Femen's actions as well.
"I'm amazed that this form of brutal and crude feminism can even exist in 2013," Sezgin told DW. "When I was an active feminist in the early 90s, they were against prostitution. Even then, we were asking ourselves how we could do that without being domineering or patronizing to women."
Sezgin says that modern feminism concretely addresses problems facing women.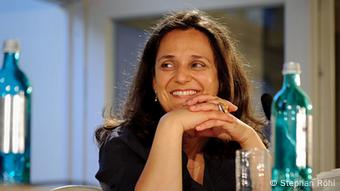 Sezgin views Femen's take on feminism as antiquated
"We've long known that feminism is a kind of solidarity with women, among women and for women," the author says, adding that this solidarity means finding out what is important to the women which feminists are meant to be connecting with.
"That is exactly what the Femen women are not doing. They are using classic Islamophobic clichés: the suppressed women in a veil, which is supposedly counteracted by Western nakedness."
The Femen way
Femen, which was formed five years ago in Ukraine and now claims more than 200 members world-wide, defends their actions. They want to keep their form of protest. Oppression is oppression, Femen activist Alexandra Shevchenko told DW, and that must be combated everywhere in the same way.
"We understand that many Muslims see us as people who want to dictate to them how that should live," she said.
Shevchenko claims the group isn't like that and doesn't want to be seen that way.
"We're looking for Muslim women who are saying: 'yes, we are like them. Yes, we feel the same compulsion as you. We support your fight the way you are fighting it,'" Shevchenko says, adding that she'd like to work together with feminists in Muslim countries.
However, the condition is that such feminists should support the views of Femen and the way they conduct their protests.
Shevchenko says the complaints of Muslim Women Against Femen stem from the fact that "Muslim women are deeply anchored in their family and environment," and if a person is born in a country or a community that is shaped by a certain ideology, she says, then it would be hard for that person to choose their own path.