It's summer in Spain, and with the sunny days and high temperatures, Madrid's café life has shifted to outside terraces. There's a lot of talk of Euro 2016 ("Is Spain back in shape?") and the Brexit referendum. There's less talk of Sunday's general election.
Spaniards are distracted and tired of politics. A Metroscopia poll for El Pais predicted only 70 percent of voters would cast ballots, the second-lowest level in nearly 40 years. This could favor conservative interim Prime Minister Mariano Rajoy's Partido Popular (PP), whose supporters are traditionally less prone to abstaining.
One of those voters is Cristino, 82. He's aware that demographics are not on the traditional parties' side: "It would seem that young people want to mess around, but people over 60, people who like order, are going to vote PP."
Despite being dogged by hundreds of corruption cases, the governing party retains the backing of a majority of conservative voters, including Cristiano, who still plans to vote for them. "It's true that they have stolen - they all do anyway - but if the communists win, they are going to break down Spain."
Podemos threatens upset
The "communists" Cristino refers to are Unidos Podemos. The left-wing coalition of anti-austerity Podemos and eco-communists Izquierda Unida has soared in the polls and is now unanimously expected to win second place in the election. Unidos Podemos is the greatest threat to the political establishment. Its leader, Pablo Iglesias, however, is perceived as arrogant and short-tempered, and is unpopular even among his voters.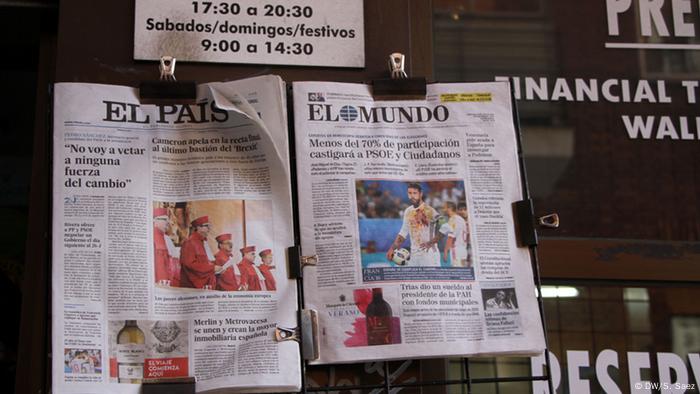 The Spanish appear more interested in the European soccer championship or Britain's EU referendum than domestic politics
"I'm going to vote for Unidos Podemos, but I don't see Pablo Iglesias as a president. He just doesn't look like it," says Flor, 55. Both she and her husband, Leandro, 51, have been working as freelance graphic designers in Madrid for the last three decades, when they came to Spain from Argentina. The anti-austerity party already controls Spain's three largest cities - Madrid, Barcelona and Valencia - in coalition with local and regional groups and has attained a strong base of followers among urban, young and highly educated voters.
Flor and Leandro think their acquaintances will also vote for Iglesias' coalition. "Of course, we are mostly left-leaning, but none of our friends are thinking of voting PSOE. One of them said the other day she felt sorry for Pedro Sanchez, so she might vote for him. It was a good laugh. Now seriously: I used to be one of the few who liked Sanchez a while back, but he's just become pitiful," says Flor.
Socialists fights for survival
Sanchez's PSOE is facing its deepest crisis in decades. The socialist party is not expected to place among the two top vote-getters for the first time since Spain restored democracy in 1978. The party's divided elites have damaged Sanchez's image as a leader.
Antonio, 33, is from Seville but works in a factory on the outskirts of London. He's one of hundreds of thousands of Spaniards who sought work abroad and left the country, which has been dogged by high unemployment for years. He's come to Madrid for a visit, but he's not planning to use the trip to cast a vote. "I always voted PSOE before. I saw them as experienced politicians who could lead the country while caring for the workers. But now I see them as inefficient; (they) have been a disappointment every time they had a shot at government."
Although the PSOE appears to be losing scores of voters such as Antonio, and is on course to obtain the worst results in its history, it still has some things going for it. The country's electoral system favors countryside districts, and with strongholds in rural regions such as Andalusia and Extremadura, the socialists still hope to win more seats in parliament than Unidos Podemos and weather the storm.
Progressive voters, conservative government
Regardless of who ends up with the most votes or seats, the only thing that seems sure is that no party or coalition will get even close to the 176 seats that are needed to form a government. The clashing personalities of the leaders of the three main parties (Rajoy, Iglesias and Sanchez) and the looming conflict posed by the independence process in Catalonia will make negotiations very difficult, particularly among left-wing parties.
The socialists could lose their position as the top leftist party
Sanchez has claimed he won't facilitate a government led by Rajoy or Iglesias. Iglesias, on the other hand, would be happy to work with Sanchez, but not with the right wing PP or Ciudadanos. At the same time, Ciudadanos' leader, Albert Rivera, who is expected to gain around 40 seats, is campaigning to be the hinge between PP and PSOE, while fiercely opposing Unidos Podemos, a party which favors a referendum on independence in its Catalonia stronghold.
Antonio Barroso, deputy director of research at Teneo Intelligence's London office, said in a letter to the firm's clients that the elections are "unlikely to make government formation any easier." For Barroso, the most likely outcome is a PP-led minority cabinet, with the support of Ciudadanos and the abstention of PSOE.
Political commentator and author Carlos Santos thinks the chances of the vote resulting in a "coherent government" are "low, albeit they exist." Santos agrees with Barroso that "although the majority of voters are left-wing, there is a higher chance of a right-wing government."