Long limited in their choice of eating-out options to kebab shops and halal meat outlets in the country, France's large Muslim population got a new alternative in the French capital last month.
"Buerger King Muslim" or BKM, a new fast-food restaurant in the eastern Paris suburb of Clichy-Sous-Bois, offers the standard fast-food fare: burgers, fries, sundaes and doughnuts. The difference is that the beef and chicken burgers here are halal -- meat slaughtered in accordance with Islamic dietary laws.
The name of the new restaurant is a play on the French word "beur," meaning a second-generation North African living in France.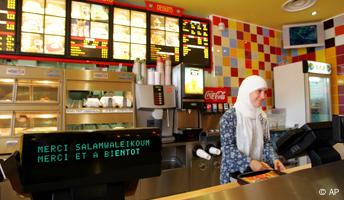 The interior is bright and colorful, not unlike the popular US chains McDonald's and Burger King. There is even a play corner for children and the prices are comparable. The waitresses at BKM however, wear traditional Islamic head scarves.
In keeping with the Koran
The concept of a fast-food restaurant catering to France's large Muslim population sounds like a business idea whose time has come. After the success of Mecca Cola, a soft drink marketed to French Muslims, it was only a matter of time before a Muslim-themed restaurant opened in the country with western Europe's largest Muslim population.
It seems to be working.
"I like that I can now eat a hamburger -- that wasn't possible earlier," said one Muslim teenager at BKM. His mother added that she was very satisfied because traditional fast-food chains had very limited choices for Muslims. The fish filet was the only food that observant Muslims could order and still stay within dietary strictures.
Rachid Bekhti, manager of BKM, said that great care was taken to ensure that the food was in accordance with the Koran.
"We check the meat very carefully, even the ingredients of the sauces -- no animal fat or anything similar can be in it. Everything has to be halal."
That also means that BKM ensures there is no alcohol in any of the drinks on offer.
Bekhti's sister Leila said that the restaurant had the potential for becoming a popular haunt for young people -- but not just Muslims, she added: "Everyone's welcome here."
Business booming, but challenges loom
The restaurant was set up by three Muslim friends who took their inspiration from similar chains abroad. Looking to offer a clean, family-oriented alternative to non-halal chains, it took almost two years to convince French backers to finance the undertaking.
"People really like the restaurant," Morad Benhamida told the Associated Press, adding that the restaurant's stock price had tripled in one month. "It seems like magic."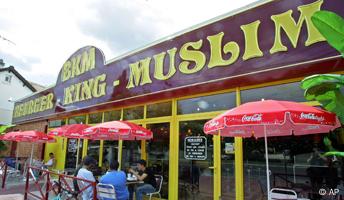 Initial business may be booming, but in the long-run the owners of BKM admit there are challenges.
Clichy-Sous-Bouis, the Paris suburb where BKM is located, is crowded with immigrants from former French colonies. Unemployment is high and many are housed in dilapidated social apartments.
"We've created 28 jobs and that's important. But now we have to make enough profits so that we can also pay people," said Hakim Badaoui, a financial consultant for BKM.
The plan is to expand and open branches in other French cities and provide young jobless people with a perspective, according to Badaoui, and, he added, to provide competition to the established fast-food chains.