He could be a referee: black knee socks, black shorts and a sports jacket, a strong young man with dark hair and round face. He looks like he's about to walk, appearing relaxed yet slightly skeptical.
His name is Daniel. He was born in 1989, but definitely looks older. "High school student," reads the photo caption. And that's all we learn at first.
Photographer Edgar Zippel keeps the viewer guessing as to which country his 100 subjects, aged 18 to 24, come from: Moldova, Poland, Iceland, Great Britain, Portugal, Italy, or Germany.
Is Daniel from eastern Europe? Or perhaps Iceland? The viewer is first confronted with their own stereotypes, since the background of the photograph doesn't provide any geographical clues.
Clothing, faces and names - as exhibition goers quickly learn - can be deceiving. Maria, the woman with the rodeo pants and cowboy hat, for example, comes from Germany, as the exhibition catalogue finally reveals.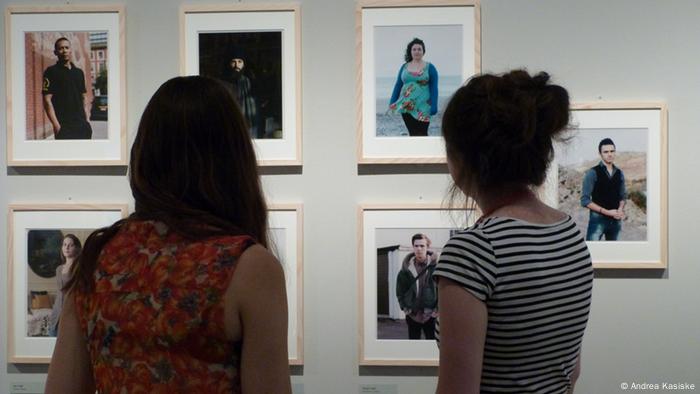 Can you guess where each person is from? Most likely, no.
Today's young Europeans
The exhibition in Berlin's Museum for European Cultures follows the tradition of ethnographic photo collections, since Zippel's project represents a kind of European archive of youth in the early 21st century which spans social classes and occupations.
The similarities between the 100 youths are conspicuous. While a fisherman in Moldova wears the same thing as his counterpart in Portugal, free-time dress codes are equally analogous. And London banker Karim could easily come from any city in Europe: a smartly dressed, dark-haired guy in a gray suit, mobile phone at the ready, leaning against a shiny black car.
While it's clear that fashion and status symbols are becoming more and more similar all over the world, the exhibition makes an effort to avoid stereotypes, focusing instead on the individuality of the faces. Each person looks directly at the viewer, many of them exuding a completely relaxed impression.
What interested the photographer most was that there are so many unanswered questions for this particular age group.
"I think that you can read quite a lot in the faces," said Zippel.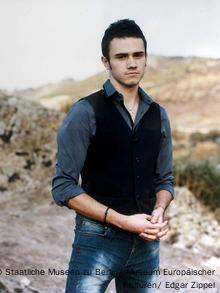 Davide from Italy is 21
You can read, for example, that Miguel struggles every day to survive. The accordion player from Lisbon is pictured sitting on the street with his dog. His brow is furrowed and his glance is introverted.
Counting on chance
Zippel carefully selected the countries he wanted to represent in his collection. Some, like Romania, he was familiar with already, while others he visited for the first time.
"I let myself be surprised," he said. When he arrived, he simply approached young people on the street - and had astonishingly good luck. With Ana, a policewoman from Lisbon, however, he had to exercise some charm until she took off her name badge and coolly hooked her thumb into her belt while he took her picture.
But not all of the portraits were left to chance. Zippel also got tips from friends and assistants to find people in particular occupations and situations that have a strong connection to their country.
In Italy, that meant tracking down someone on a motor scooter. "I was imagining a picture of a young Italian woman on a two-wheeler, maybe with a telefonino held up to her ear," explained Zippel.
He ended up finding the real-life version of that image in a mountain village in Sardinia. There, more than one young woman on a scooter passed him by. But that was on a Sunday, and by the time he decided on a photo it was Monday and all the young people had vanished from the village.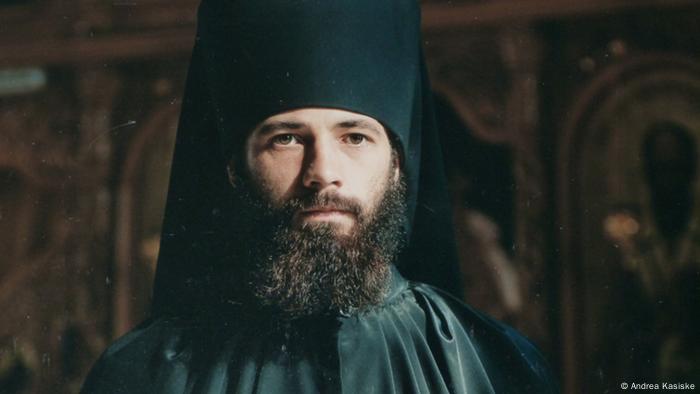 Orufire, an Orthodox monk in Romania, is afraid of Judgment Day
In the end, that photograph - like many others - never happened. It turned out to be easier to take spontaneous snapshots rather than track down planned archetypes.
Zippel didn't just photograph his protagonists, he also asked them questions about what they want to do in life, what they're looking forward to, and what they're afraid of. It's not surprising that their replies, which are also included in the exhibition, are strikingly similar.
Career and family are among the young people's top priorities. More interesting, however, are their fears. Orufire, an Orthodox monk in Romania with a full black beard and confident gaze, says he is afraid of Judgment Day.
Mattia, a shepherd from Italy, worries about not being able to realize his dreams - a concern he shares with many of his peers across the continent.
Not afraid of anything
"I'm afraid of wasting my life," a Polish primary school teacher confessed to the photographer - a weighty concern for someone in their early 20s.
On the other hand, some protagonists took a more positive view of the future and a number claimed they weren't afraid of anything - like Daniel, an athletic high school student from Romania.
"I'm not afraid of anything" - the statement that gave the exhibition its name - and the faces of the 100 protagonists speak of a strength that one may not have expected from youths in Europe's crisis regions.