A former Nazi military medic who led a cult of German refugees to Chile has died in a Chilean prison where he was serving a sentence on charges of child sexual abuse, murder and torture.
Paul Schaefer was 89 when he died of heart failure in a prison hospital on Saturday.
"At last, the final judgment has been made," Hernan Fernandez, a lawyer for the Chilean abuse victims, told the DPA news agency.
"Colonia Dignidad"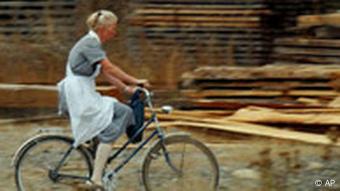 Schaefer's followers lived a life sealed off from modernity until recently
Schaefer moved with about 250 followers to Chile in 1961, founding a religious commune they first called "Colonia Dignidad."
Schaefer ruled over the settlement with an iron fist. Men and women lived separately and children were taken from their parents at age two to be raised in collective, gender-segregated nurseries.
Residents were forbidden contact with the outside world and taught to revere Schaefer as a god.
Chilean authorities began investigating accusations of sexual abuse against him in 1997. Soon afterwards, he fled to Argentina, where he was captured in 2005. After his extradition to Chile, he was convicted of abusing and torturing 25 children.
Schaefer also was serving time for collaborating with the authoritarian regime of dictator Augusto Pinochet and allowing the commune to be used as a torture site for political prisoners.
Abuse allegations on two continents
Schaefer was born in the town of Siegburg in 1921. After serving as a medic and officer under the Nazis in World War Two, he became a evangelical preacher.
He tried unsuccessfully to work as a youth leader in several church institutions, but was fired several times after being accused of molesting underage boys. He then set up his own ministry and a youth home, but he was again accused of sexual abuse. He fled in 1961 to avoid being charged.
The Chilean colony, which sits about 350 kilometers (217 miles) south of the capital of Santiago, is today known as Villa Baviera - "Bavarian Village."
Families are now permitted to live together, and it has begun to re-establish links with the outside world. It is financially successful, building a trade in agricultural products and baked goods.
"A person's death is always sad, and what he did in his life is not important in such a moment," the settlement's spokesperson, Martin Matthusen, told Chilean broadcaster Coopertiva.
svs/dpa/Reuters/AFP/AP
Editor: Kyle James