Munich-based Franka Emika's Panda is safe, has exceptional fine motor skills and is designed to interact with humans. And, perhaps most importantly, it is affordable.
Those were among the reasons German President Frank-Walter Steinmeier awarded the €250,000 ($295,760) prize to the team behind Franka Emika, robotics specialist Sami Haddadin from the University of Leibniz in Hanover, his brother, Simon Haddadin, CEO of Franka Emika and Sven Parusel, chief engineer at the company.
Steinmeier said the winners managed "the transition from laboratory to a viable business," which is the key characteristic to winning the prize.
The German Future Prize for Technology and Innovation, which was awarded for the 21st time on Wednesday, rewards "exceptional research and development projects" that are market ready and have the potential to create jobs.
Not a cute Panda, but safe and cheap
The product may not look as cute as, say, a humanoid robot likeSoftBank's Pepper, but it has the potential to shake up the industry, as it is available for under €10,000, which is a first, making it affordable for small and medium-sized companies.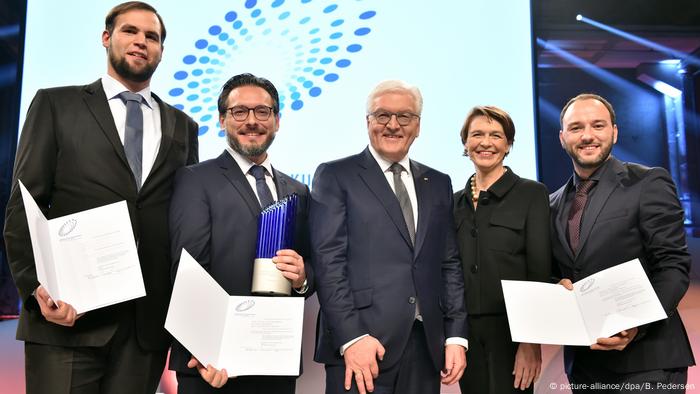 The winners herald a 'new age for robotics'
Strictly speaking, Panda is a robot assistant, as it is particularly good at working alongside humans. It is very sensitive to touch and can thus be guided with one hand and avoid collisions.
Read more: YuMi the robot music conductor steals the show
Read more: 'Autonomous weapons' - tech leaders warn of UN killer robots
Those are critical features at a time when so-called human-robot collaboration is still a challenge without industry-wide standards. Many industrial robots at assembly lines are still kept in cages, as the danger of accidentally whacking workers over the head or worse remains an issue.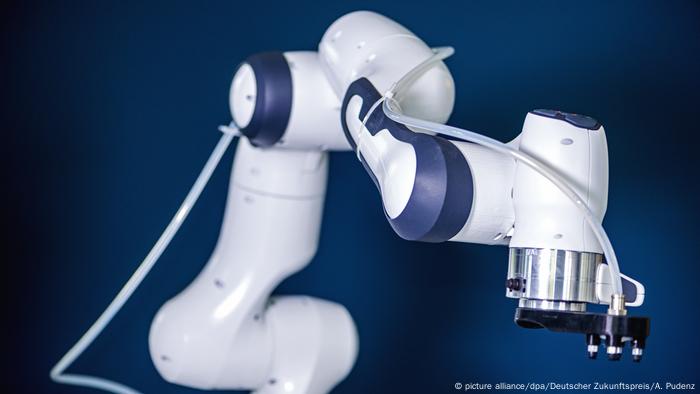 Not cute, but a dependable, affordable helping hand
Market for applications
The mastermind behind the robot, Sami Haddadin, called it a product for "everyone, it's flexible and scalable." Easier to assemble than other robots, he said the tool could be adapted to companies' needs and opens up a market for software applications that can run on the Panda robot.
The Panda could also be used in various different environments, including assembly lines, care homes and hospitals.
Haddadin, a robotics expert and professor at the Institute of Automatic Controls at the Leibniz University in Hanover, and the two other winners previously worked at Germany's national research center, the German Aerospace Center's (DLR) Robotics Institute. Their former employer congratulated them on Twitter saying "the foundations were laid at DLR" more than 10 years ago.
The other nominees for the prize were Klaus-Dieter Engel and Robert Schneider from Siemens Healthineers and Franz A. Fellner from the University Clinic Linz for their product on cinematic rendering, which makes CT scan images more realistic.
Stefan Schulz, Adrian Andres and Matthias Basler from Vincent Systems in the south-western German city of Karlsruhe had been nominated for what they describe as the "world's smallest and lightest hand prosthesis."