Developed by French robotics firm Aldebaran, a subsidiary of Japan's SoftBank Robotics Corporation, Pepper will initially only be available in Japan. Trialed as a shop assistant in two of SoftBank's mobile phone stores, he is the "world's first personal robot that can read emotions," according to its developers.
Softbank is also hoping that bringing Pepper to the masses will make humanoid robots more normal in our everyday lives and, thus, boost the industry's appeal and reach.
Pepper even has his own emotions, albeit generated artificially with a little help from a specially designed software. He can spot when you're sad, angry or happy through various sensors and cameras.
Give us a hug!
He can dance a little, take a selfie, and he is smart enough not to run into you constantly, one of the many frustrations of countless robotics specialists worldwide for years. He can also recharge his own batteries. But he is limited in that he operates on wheels and cannot walk.
Like the rest of us, he is happy when praised, he can raise his voice or let out an exasperated sigh. Additional apps can be downloaded "to make life fun with an emotional robot."
Fun is the name of the game here, as he sadly won't be doing the household chores for you. Although one of the very few multifunctional robots available to consumers, he cannot mop the floor or even bring you a beer.
The technology for such a multi-purpose domestic robot is just not quite there yet - at least not to an extent that would make mass-market production possible, much less affordable.
But Pepper, who succeeds Aldebaran's earlier human-like robot Nao, is at least fairly cheap. He is yours for 198,000 yen ($1,600, 1,420 euros), which is a bargain considering the research and development that has gone into it and the technology needed to make him capable of expressing emotions.
But here's the rub - Pepper is designed as a companion - some may argue a toy - but not much else. Granted, he can also help you find things like a nearby restaurant via his integrated tablet-like screen, but that is hardly new.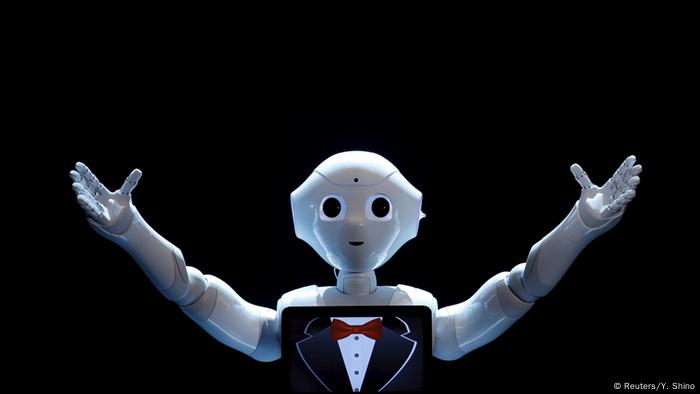 I want to be your friend!
Plus, as Jack Schofield from business technology news site ZDNet says in his latest blog, Pepper is tall at 120 centimeters (nearly 4 foot) and has "numerous expensive moving parts" that enable him to express emotions "but require 20 motors."
"That's a lot of technology for a robot with zero functionality," Schofield says.
SoftBank, however, is thinking long-term. The company has teamed up with China's Alibaba marketplace and Taiwan's Foxconn, who will invest $117 million each, giving them a combined 40-percent stake in Softbank Robotics Corporation.
The aim is to "bring Pepper and other robotics businesses to global markets" and "spreading and developing the robotics industry on a worldwide scale," according to a SoftBank statement. Launching Pepper is "a first step to realize our vision," the company says. SoftBank is also planning to release a business version called "Pepper for Biz."
So, he may not cook your dinner just yet, but for many, he is a trailblazer.