There have been numerous efforts to document the histories of Nazi concentration camp survivors, trying to make sure their collective history is not lost to future generations.
Similarly, concerned that the last living European resistance fighters were dying out, the EU launched a pilot project in 2006 to preserve their stories on videotape and make them available to the public.
On May 7, some nine months after it began, The European Resistance Archive (ERA) video portal went online. The archive's official opening, in Berlin, coincided with diverse celebrations marking the anniversary of the end of World War II.
"A great satisfaction"
"For me, it is a great satisfaction that on the day of liberation of fascism here in Berlin, this video archive is being presented," said Giacomo Notari, an Italian resistance fighter who attended the conference.
A group of Cologne teens called "Edelweiss pirates" resisted the Nazis
Notari's story was one of the 20 informative and intimate interviews that have so far been taped and added to the searchable portal, which together give a kaleidescopic view of the resistance movement in wartime Europe.
Six countries so far have joined the project -- Italy, Germany, Austria, France, Poland and Slovenia. But organizers hope it will spread to include others.
"I am delighted that … the first video-archive with eyewitnesses of the European resistance could be developed and is online from today on," said Belen Enciso of the European Commission. The commission funded the pilot project under the Active European Remembrance campaign, which was launched in 2005 to mark the 60th anniversary of the fall of Nazism.
Youth-training component
Together with professional historians, "memory workers" and filmmakers, the project trained young people from around Europe in the different skills needed to make living-history documents. They researched, interviewed, filmed and edited the segments, then put them, along with supporting documentation like maps and historical documents, online.
Meanwhile, the grassroots site has called on the general public, asking anyone who has the know-how to create a historically valid interview and put it online, to do so.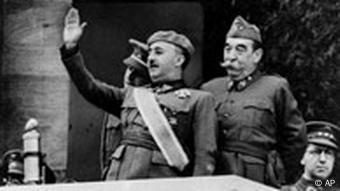 In Spain, Franco ruled -- but some resisted
"If you would like to add an interview completely documented to ERA, a couple of steps are required…," reads the site's call for help. These include doing historical research, researching pictures, interviewing, and translating, among other things.
Collecting site for material
The site also hopes to be a centralized home for some of the already-existing reams of material on resistance fighters. The site exhorts classrooms to make a project out of resistance histories, and notes that "in many places, already recorded interviews of protagonists of the resistance are kept. This material could be consolidated and documented for ERA."
In addition to the video interviews, the ERA website offers maps, images, documents and scientific texts about the specific situations in each country, as well as transcriptions and translations of all the interviews.