The Council of Europe's human rights body has added its voice to a growing number who have condemned France's expulsion of Roma migrants.
The European Commission Against Racism and Intolerance (ECRI) said that it was "deeply concerned" about the treatment of Roma communities in France.
A statement said that the commission had repeatedly urged Paris not to stigmatize ethnic Roma, and called the French government's decision to expel them a "most negative development."
Police evicted travelers from two more illegal camps on Tuesday, as part of President Nicolas Sarkozy's ongoing crackdown on crime. More than 200 Roma have been sent back to Romania and Bulgaria in the past week.
Series of meetings
French Interior Minister Brice Hortefeux is set to receive two Romanian ministers on Wednesday and Thursday. Romanian Secretary of State for Roma Integration, Valentin Mocanu, and Dan Valentin Fatuloiu, Secretary of State for Public Security, will discuss immigration issues in Paris.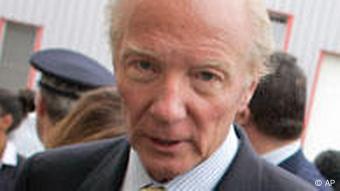 Interior Minister Hortefeux will be explaining French policy to Romanian officials
Hortefeux has also asked to meet the Paris Cardinal Andre Vingt-Trois in the coming weeks, after Pope Benedict XVI made remarks reminding Catholics of their obligation to accept people of diverse backgrounds in French on Sunday.
Ministers from five senior European powers are expected to meet in Paris to discuss immigration policy on September 6. French Immigration Minister Eric Besson has invited the Italian, German, British and Spanish interior ministers to join him during the visit of Canadian Immigration and Citizenship minister, Jason Kenney. The European Commission did not receive an invite though.
The leader of the European parliament's Liberal alliance called on the bloc's executive arm to issue a declaration on France's treatment of minority groups at its plenary in Strasbourg in early September. Guy Verhofstadt, the former Belgian Prime Minister, said that the European Union's values "have been ridiculed".
Unpopular at home
Heavy criticism has also come from within France. "There is today a stain of shame on our flag", wrote former Prime Minister Dominique de Villepin in the newspaper Le Monde on Monday.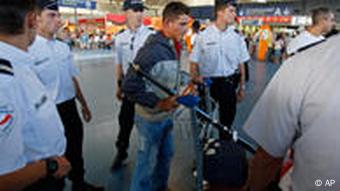 Many Roma say police are coercing them into leaving
Meanwhile, President's Sarkozy approval rating has slipped to 34 percent, just two points above an all-time low, according to recent polls.
The French government has denied it has deported any Roma. "We have only applied European law," Secretary of State for Europe, Pierre Lellouche, said. "It is a voluntary return, including financial support."
Roma who agree to leave France are being given 300 euros ($380) per adult and 100 euros per child.
Police are targeting 300 illegal traveler's camps nationwide.
Author: Thomas Sheldrick (AFP/dpa/Reuters)
Editor: Rob Turner