European Union
EU Justice Commissioner Franco Frattini said the explosions were "a tragic confirmation that terrorism strikes once more at the heart of Europe," and called on the EU to offer Britain all the help it needed. "It's necessary to immediately activate co-ordination between intelligence and police services and offer England all the help possible," he said.
Germany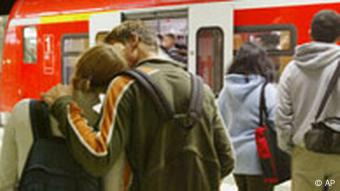 People wait in downtown Frankfurt, Germany, in an underground station for their train, Thursday July 7, 2005, some hours after a series of explosions hit transit systems in London.
Transport officials in the capital, Berlin, raised the alert level to medium or "yellow," and said extra security staff had been deployed. National rail operator Deutsche Bahn also took steps to bolster security. The foreign ministry set up a crisis center at the German embassy in London to serve potential German victims, and warned national not to use the public transport system. German Chancellor Gerhard Schröder added his voice to those of the other leaders gathered at the G8 summit in Scotland, condemning the "barbaric attacks" and vowing to defeat terrorism.
Spain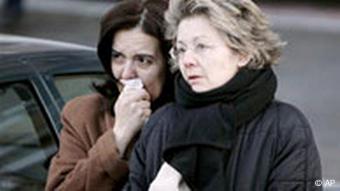 Two women react commemorating victims of the March 11 train bombings in Madrid, Friday, March 11, 2005, at the same time and same spot a train was blown up by Muslim extremists a year ago.
Spain raised its national level of security readiness following the attacks and expressed deep sympathy for the people of Britain. Thursday's events recalled a similar series of al Qaeda-linked bombings that ripped through the Spanish capital, Madrid, more than a year ago. "Spain, which has suffered the scourge of terrorism, both national and international for years, offers its immediate and unconditional help, as well as its full support to the United Kingdom to pursue the criminals that have carried out such a repulsive attack," a statement from Spanish Prime Minister Jose Luis Rodriguez Zapatero's office read.
France
Security levels were also raised in France following the attacks in London. French President Jacques Chirac said Britain had France's "total solidarity." The French Senate suspended its session "out of respect" for the victims. France's railway operator urged passengers to postpone any immediate plans to travel to Britain. A spokesman for Eurostar said trains to and from France were still running, but added that the situation was being "monitored by the second."
Italy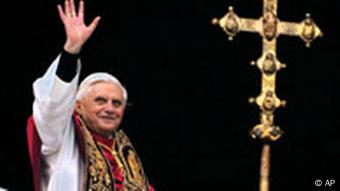 Pope Benedict XVI
Italian civil aviation authorities placed all Italian airports on maximum alert. A spokesman for Italy's Interior Ministry said a special anti-terrorism committee was meeting to decide on possible further security measures. Speaking from Vatican City, Pope Benedict condemned the London blasts as "barbaric acts against humanity."
Netherlands
Dutch Prime Minister Jan Balkenende said in a statement that "vigorous cooperation in the European Union and worldwide" was needed to fight terrorism. He added that the Netherlands was stepping up border checks and increasing security around British buildings in the country. Balkenende supported British Prime Minister Tony Blair's decision for the Group of Eight summit in Scotland to go on. "These attacks were planned at the moment when world leaders had agreed to come together to tackle global problems such as poverty and climate change. These talks must therefore go on," he said.