Only a few weeks ago, banks in the euro zone financial sector were said to be safe from the US-born financial crisis, but now, as the global financial situation gradually worsens, five European governments have had to step in to prop up financial institutions.
Separately, news emerged late Monday, Sept. 29, that the US House of Representatives rejected a $700 billion measure to rescue the failing American financial system. The bailout bill was defeated after many House Republicans ignored their leaders' pleas and voted against it. A majority of Democrats voted in favor of the plan.
"I feel they've taken leave of their senses," said European Union Trade Commissioner Peter Mandelson of US lawmakers Monday in an interview with BBC, "and I hope that in Europe we will not see politicians and parliamentarians replicating the sort of irresponsibility and political partisanship that we have seen in Washington."
The stock market reacted negatively to the vote, with world stocks losing about $1.7 trillion Monday, according to the MSCI's global index.
The news of the failure of the biggest US bailout in history came on a day when initial confidence in the sturdiness of the European banking sector took a battering as governments in Belgium, Britain, France, Germany, Luxembourg and The Netherlands found themselves forced to offer hastily arranged state support for a handful of banks to avoid their collapse.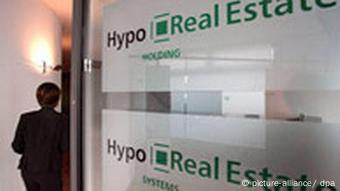 HRE shares plunged 63 percent when the Frankfurt stock exchange opened Monday
The German government and top banks based in Europe's largest economy had to inject urgently needed funds into mortgage lender Hypo Real Estate, which had been teetering on the brink of disintegration prior to the rescue package.
The total sum of the HRE bailout was not disclosed, but the German Finance Ministry said its credit line to the lender was worth 35 billion euros.
In Britain, Prime Minister Gordon Brown's government took the step of temporarily nationalizing the loans and mortgage business of the country's eighth-biggest mortgage lender, Bradford & Bingley (B&B).
"Following recent turbulence in global financial markets, Bradford & Bingley has found itself under increasing pressure as investors and lenders lost confidence in its ability to carry on as an independent institution," the British Treasury said on Monday.
Lastly, Benelux banking and insurance company Fortis had to be propped up by an 11.2 billion-euro package funded by the three Benelux countries, Belgium, the Netherlands and Luxemburg.
European stock markets plummet
The emergency rescue packages sent jitters through Europe's bourses.
German shares plunged over four percent after the Hypo Real Estate bailout. The blue-chip 30-share DAX in Frankfurt closed at 5807.08 points, down more than 250 points or 4.23 per cent from the pre-weekend closing level.
Monday's final reading was the lowest in more than two years on the Frankfurt exchange.
On Monday, London's FTSE 100 index of leading shares sank 2.63 percent to 4,954.11 points in early morning trade, accelerating opening losses. In Paris, the CAC 40 slid 2.82 percent to 4,046.17 points.
Stock markets across the Nordic region too plummeted Monday. The Oslo stock exchange fell 8.30 percent by the closing to 301.84 points, its lowest level in nearly three years.
The Stockholm stock exchange meanwhile plunged 5.73 percent lower to 246.20 points, and the Copenhagen stock exchange tumbled 5.30 percent to 358.78 points, with Denmark's largest bank Danske Bank diving 6.13 percent.
EU officials call for tighter regulation
European officials have begun calling for heightened regulation of the European financial system to avoid a repeat of what has already been a costly exercise in trying to keep business as usual.
"Stronger international regulation agreed at international level" is needed in order to "re-civilize" financial markets so that such a crisis will not be repeated, German Finance Minister Peter Steinbrueck said Sunday.
Financial analysts examining the European financial sector said a US-style, sector-wide bailout was not the panacea to the current financial crisis. Instead, they too championed better regulation as the answer.
"So, for now, financial supervision in Europe remains very fragmented on a country level," analysts at banking group Citi said. "In turn, this may make the question of which country bears the cost for bailouts controversial, especially given that some banks have assets that are very large compared to the GDP of the host country."
Sarkozy urges support for banks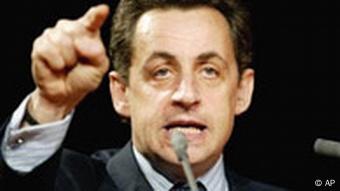 French President Nicolas Sarkozy called emergency meetings to curtail the crisis
French President Nicolas Sarkozy attempted Monday to rally support for assisting ailing European banks ahead of a meeting at the Elysee presidential palace to review the situation of financial institutions and the credit level of households and businesses in France.
"We must not give way in the face of destabilization, we must help our banks," said Sarkozy, whose country holds the rotating European presidency.
Appearing with the French president, European Commission Chief Jose Manuel Barroso said "initiatives" were in preparation for a "structural European response" to the crisis to be unveiled at a European summit in mid-October.
"That's the only way to ensure that stability and confidence can return," he said.