The European Union and the US on Monday signed a revised agreement on sharing banking data to investigate suspected terrorist financing, moving the long-running negotiations over the deal a step closer to completion.
Under the revised deal, an EU official would be posted in the US treasury in Washington to scrutinize the transfer of the European banking data to investigators.
Information requests are also to be "tailored as narrowly as possible" and will be checked by Europol, the EU's police coordination agency.
The agreement still needs the green light from the European Parliament, which in February rejected an earlier proposal for US access to the so-called SWIFT database - a European consortium which records financial transactions.
EU lawmakers had expressed concerns over a lack of privacy guarantees in the original deal, such as the fact that SWIFT technology does not allow for suspicious transactions to be singled out from bulk data, meaning that the financial information of innocent EU citizens could be transferred and stored in the US for up to five years.
To overcome this problem, European governments and the European Commission, which is formally in charge of the talks on the EU side, agreed to set up a SWIFT-data-extraction process in Europe, so US authorities would no longer receive information in bulk.
Compromise found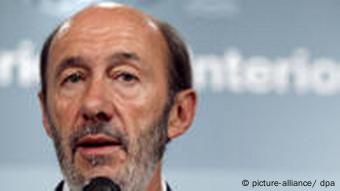 Rubalcaba said the deal addressed lawmakers' concerns
Alfredo Perez Rubalcaba, Spanish interior minister and representative of the EU's rotating presidency, said on the sidelines of the signing ceremony in Brussels that the agreement reflected "the concerns of the European Parliament, its concerns about transparency, data protection and cooperation with the US."
Michael Dodman, a diplomat who signed the agreement on behalf of the US, said EU representatives "were strong and tough negotiators.
"This is a very, very strong agreement. We are very proud of it," he said. "It is very important to the security of the United States and Europe," adding that the data sharing deal would close a "security gap."
Cecilia Malmstroem, the EU commissioner for home affairs, said she was "quite optimistic" that the European Parliament would back the new deal next week, allowing it to come into force by as early as August 1.
Martin Schulz, the head of the Socialists and Democrats in the EU parliament, indicated Monday that EU lawmakers would accept the revised data sharing deal.
"It is the duty of the EU and the US to cooperate in protecting citizens from terrorism, but citizens have also the right to be protected against excessive state intrusion into their lives and potential mistakes," Schulz said in a statement.
"After intense confrontation, the EU Council has finally come to terms with our demands."
Author: Darren Mara (AFP/dpa)
Editor: Rob Turner