The fact-finding mission would be aimed at establishing how the 27-nation bloc can help the country from sliding further into political and financial instability, Steinmeier told journalists after talks with EU counterparts in Luxembourg on Monday.
"Developments there are worrying ... We must try such a mission to help find the national consensus needed to overcome the crisis in Ukraine," he said.
He said there was "a broad consensus" among EU states for such a move, which was proposed jointly by Germany and Poland, and that EU foreign policy chief Javier Solana would now discuss the idea with Kiev.
"It is timely to explore how we can best assist the country in tackling its current difficulties," Steinmeier said.
Earlier, the top adviser to President Viktor Yushchenko said Ukraine's economy would likely shrink by 8-10 percent ths year, rather than the 0.4 percent growth forecast by his government, Reuters news agency reported.
Divided Ukraine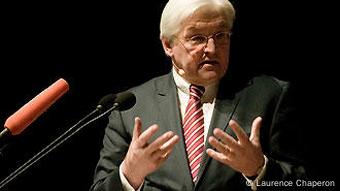 Steinmeier says Ukraine needs Europe's help to avoid further crisis
Sweden's foreign minister, former premier Carl Bildt, said the EU was deeply concerned by the ongoing feud between Ukraine's president and prime minister, which has blocked the country's bid to bring in reforms demanded by the International Monetary Fund in return for a massive bail-out.
"There's every reason to be worried. They have a very major economic crisis ... On top of that, we've got the political divisions in the country," he said.
The country's inability to agree on IMF-mandated reforms is "more than regrettable, that is bordering on the dangerous for the country," he said.
Ukraine is one of six former-Soviet states that the EU has invited to join its "Eastern Partnership" cooperation group, which will be launched at a summit in Prague on May 7.
Ahead of the launch, concerns in Europe have grown over the threat of instability in Ukraine and Moldova, the state of democracy in Belarus and unresolved conflicts in Georgia, Armenia and Azerbaijan.
Bildt said that those problems make the partnership "more needed than ever."
"I don't think anyone (in the EU) is under the illusion that we are entering into relations with a couple of Switzerlands," he said.