The EU agreed on Monday, March 23, to help Ukraine make expensive but necessary improvements to its gas supply network in exchange for more reliable transit service and grater market transparency.
"It seems to me the document about which we are talking is, at a minimum, ill-considered and unprofessional because to discuss such issues without the basic supplier is simply not serious," Putin said in the Black Sea resort of Sochi.
Russia's former president also hinted that his country might have to re-think its relationship with the European Union.
"If the interests of Russia are ignored then we will have to start re-examining the principles of relations with our partners," he said.
EU says Russia not being shut out
Ukraine needs to update its gas supply infrastructure
EU officials stressed that Monday's deal is not intended to reduce Russia's importance as the bloc's number one gas supplier.
"We are working for safe and attractive conditions for the transit of Russian gas," said EU Energy Commissioner Andris Piebalgs. "There is no intention to exclude Russia."
European confidence in Ukraine took a hit in January, when a bitter argument between Russia and Ukraine over prices left Europe without access to most Russian gas for more than two weeks. The two countries eventually came to an agreement, but tensions continue to run high.
"We can not allow our citizens to experience fuel shortages in the depths of winter again," said EU commissioner for external relations, Benita Ferrero-Waldner.
A massive project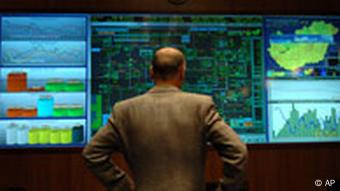 Europe wants better monitoring of gas supplies
As part of the agreement announced in Brussels on Monday, the former Soviet country laid out a plan to overhaul its gas transit system. Ukraine has agreed to reforms which will include setting up an independent company to oversee the multi-billion-euro project.
Ukraine's 40-year-old natural gas system is in desperate need of an upgrade. Experts have estimated that Ukraine needs 2.5 billion euros ($3.4 billion) over the next few years just to keep its system functioning properly.
The European Union has a keen interest in having Ukraine's system running smoothly as some 20 percent of the bloc's natural gas supplies come from Russia via Ukraine.
Ukraine's Prime Minister Yulia Tymoshenko told those attending the meeting in Brussels that Ukraine wants 5.5 billion euros to modernize the current system and also boost capacity.
"Today's conference is extremely important for us because Europe's energy security requires an approach based on solidarity and agreement between the EU and Ukraine," Tymoshenko said.
Both Tymoshenko and her bitter political rival President Viktor Yushchenko attended the meeting in Brussels and threw their support behind the bilateral declaration.
Europe hopeful, but cautious
Ukraine has asked for foreign investment to upgrade its system
Analysts say that the pledge signed on Monday could sound the death knell for the monopoly of Ukrainian gas company Naftogaz, which currently both manages the system and provides Ukrainian consumers with gas.
Before aid and investment money begins flowing, Ukraine will have to prove it is willing to make big changes, said Philippe Maystadt, head of the European Investment Bank (EIB).
The bank is willing to co-finance the modernization of Ukraine's gas system, but only if it is done in a "commercially sound and transparent way."
The EU currently has monitors in Ukraine to check on the flow of Russian gas through a key Ukrainian pipeline, and the bloc has said it will increase surveillance if necessary to ensure that gas keeps flowing to Europe.
Europe looking at other options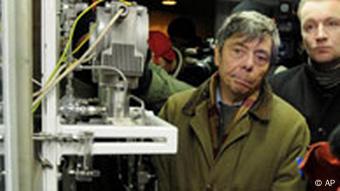 The EU has hoped monitors can keep supplies flowing
EU countries, in an effort to avoid being held hostage by future disputes between Russia and Ukraine, recently agreed to invest 200 million euros in the "Nabucco" pipeline project, which is meant to bypass both countries and bring gas direct from the Caspian Sea to Europe.
Germany's Deputy Economics Minister Bernd Pfaffenbach pointed out that Europe's demand for energy in the future will continue to grow and that it makes sense to "diversify the supply sources and the delivery networks."
German energy company RWE has thrown its support behind the project, said CEO Stefan Judisch.
"With Nabucco, German consumers will have more gas, and gas could also become cheaper because there will be more competition," Judisch said.
Details about how the project will be financed are on the agenda for an EU meeting in Prague in May.