The study, commissioned by the European Commission in Brussels, forecasts drought-like conditions in southern Europe, rich harvests in the north and dramatic economic consequences if the world does not act to slow global warming.
The study is set to be published by the EU on Wednesday and will coincide with the Commission's much-touted policy on energy security and ways to reduce the 27-member bloc's dependence on oil and gas.
German news agency dpa, which acquired a draft of the climate-change study, reported that if the global climate were to heat up by 2.2 to 3 degrees Celsius by 2071 -- compared to 1990 levels -- then up to 86,000 people could die as a result.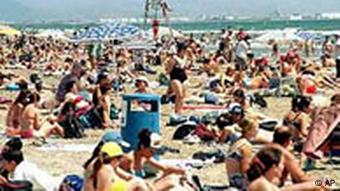 Southern Europe's tourist industry could be hit hard
Even the tourism industry in the Mediterranean, worth billions of euros, could be severely affected, the study said. Some 100 million sun-seekers from northern Europe travel each year to the beaches of Spain, Greece, Portugal and Italy, making southern Europe one of the world's most popular destinations.
But if climate change did proceed unchecked then the tourist destinations would shift to the North Sea, destroying the economic backbone of the Mediterranean region, the study warns.
Surplus harvest in north, drought in the south
The report also forecast dire consequences for the European economy if the gap between the north and the south were to dramatically increase.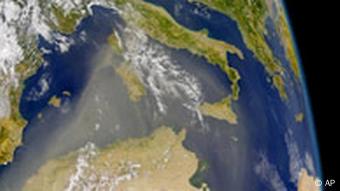 Weather patterns are changing
The report points out if northern Europe experiences longer periods during which temperatures stay above the freezing point, harvest yields could jump by 70 percent. At the same time, harvest yields in southern Europe could decline by as much as 50 percent. The study says global CO2 emissions should be immediately cut by 15 percent and should be lowered by almost 50 percent by 2050.
The report is part of a broad review of the EU's energy policies. The European Commission will also propose Wednesday, during the unveiling of its energy policy, that the EU commit to cutting its greenhouse gas emissions by at least 20 percent by 2020 from 1990 levels, an EU source said Tuesday.
Dramatic climate change in Germany
Confirming some of the EU study's results on Tuesday, the German Agency for Maritime Affairs and Hydrography (BSH) said that global warming effects on in the North Sea and Baltic Sea could no longer be prevented, but on mitigated by lowering carbon dioxide emissions.
"We have to deal much more intensively than in the past with what the consequences of climate change are on seas, navigation, the environment and the coasts," BSH President Peter Ehlers said in Hamburg on Tuesday. "Everybody is now aware that we have global warming," Ehlers said.