Greece was expected to accept back asylum seekers who from Wednesday turn up in other EU member nations as the 28-nation bloc sought a gradual resumption of its "Dublin" asylum system alongside its "Schengen" open-borders ethos.
The reinstatement is based on a European Commission recommendation issued in December.
Explicitly excluded from such returns will be vulnerable asylum applicants, such as unaccompanied minors. Applicants who were present in other EU nations before March 15 will "in most cases" still have their claims processed in those nations.
- European court rules against 'humanitarian' visas for refugees
-OECD praises Germany's refugee integration
'Dublin' indispensible, says commisson
Reinstatement of "Dublin" - requiring any asylum bid to be processed by the EU nation in which the applicant first arrives - is described by the European Commission as "indispensable" for the "normal functioning" of Europe's 26-nation "Schengen" area initiated by five of them in 1995.
It harmonized visa policies and allowed motorists and travelers to cross borders without policing checks, except during limited-term emergency periods.
"Dublin," expanded since 12 EU nations launched it in 1997, was suspended in 2011 because of "systemic deficiencies" seen in Greece's asylum practices by the European Court of Human Rights and the European Court of Justice.
Its practices broke down in 2015 during migrant arrivals via the western Balkans route, now largely closed by fences, which saw 1.1 million migrants reach Germany.
Instructions from de Maizìere
Germany's interior ministry said late Tuesday the plan applied to solo asylum seekers, married couples and families "without problem constellations" as well as convicts and persons regarded as Gefährder or potential terrorist threats.
Minister Thomas de Maizière had instructed the Nuremburg-based BAMF federal agency for migrants and refugees to begin implementation, his ministry said.
The refugee advocacy group Pro Asyl (Pro Asylum) has long maintained that a "humanitarian crisis" remains on Greek islands especially and has accused Germany of being slow in taking in recognized refugees reallocated from Greece and Italy - another facet of intended EU load-sharing.
'Significant progress'
The commission maintains that Greece can receive back asylum applicants because it has since made "significant progress," assisted by entities such as the EU's European Asylum Support Office and non-governmental organizations (NGOs).
"We need to return to an orderly system," said the commission is afact sheet first published on December 8, which insists that "secondary movements" of asylum seekers from Greece to other EU nations had undermined Schengen.
It cautioned, however, that "applicants should only be transferred if the Greek authorities give individual assurances in each case" that the applicant would be put in appropriate centers and handled on the basis of EU law.
"For the time being, the transfer of vulnerable migrants (especially unaccompanied minors) back to Greece is not recommended," it said.
Turkey-to-Greece numbers dwindle
Arrivals in Greece shrunk to 2480 in January and February, according to the UN's refugee agency, in the wake of an EU-Turkey deal reached in March last year.
It requires Turkey - which internally has 2.7 million refugees, mostly from war-torn Syria - to receive back asylum seekers newly arrived on Greek islands and to crack down of people smugglers who provided boats in Aegean waters.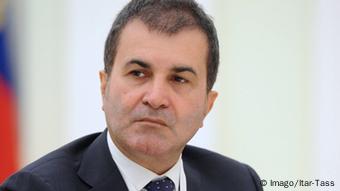 Sea route too dangerous, says Celik
In exchange the EU pledged six billion euros ($6.4 billion) for improvements of living conditions of refugees already inside Turkey.
Despite President Tayyip Erdogan's strident criticism of Europe, Turkey's EU Affairs minister Ömer Celik on Monday and Tuesday said Turkey "should re-evaluate" land-passage aspects of the deal, but added that Turkey would not reopen its Aegean border.
State media quoted him as saying Turkey's maritime border with Greece was too dangerous for refugee crossings.
ipj/rt (AFP, dpa)