The survey of 23,500 people revealed that discrimination, harassment and racially motivated violence were far more widespread than recorded in official statistics.
"The survey reveals how large the 'dark figure' of racist crime and discrimination really is in the EU. Official racism figures only show the tip of the iceberg," agency director Morten Kjaerum said.
The report by the EU's agency for Fundamental Rights (FRA) said that around 55 percent of minority residents and migrants felt ethnically inspired bias was widespread. But of the 12 percent who reported witnessing a racist crime in the past 12 months, 80 percent did not go to the authorities about it, reflecting the belief that little could be done to tackle the problem, Kjaerum said.
Africans, Roma targeted
The survey results confirmed that an overwhelming majority of Roma and Africans feel they face acute discrimination in nearly all facets of daily life in the EU.
Around 90 percent of North Africans in Italy and France reported discrimination, while around 85 percent of Roma living in Hungary, the Czech Republic, Slovakia and Greece said they had been treated with prejudice because of their ethnicity. In Germany, just over half of all Turkish residents surveyed said discrimination based on ethnicity was widespread here.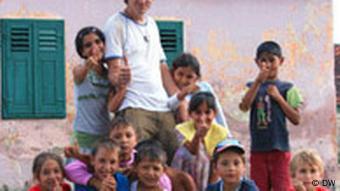 Roma were the ethnic group most suffering from discrimination
Minorities reported racially-motivated obstacles when looking for work or a home to rent or buy, when trying to open a bank account or get a loan, when dealing with healthcare, social services or school officials. They also experienced discrimination when entering cafes, restaurants and shops.
Misleading figures
The author of the FRA report, Jo Goodey, said the EU is currently focusing heavily on integrating minorities. However there is a clear lack of data on discrimination in many member states.
"On that basis you could say that policy-makers often are ill-informed about the situation as experienced by minorities," she said. "Only a few member states have good data on which to build evidence-based policies about the situation of minorities.
"So we did this survey because it's the first survey of its kind to be able to present an overview of discrimination as experienced by minorities."
Goodey said however that the survey results were not a sign that Europeans were generally racist.
"What it does show is that European societies do have problems in terms of addressing directly what to do about racism.
"One thing the survey did show was very, very high levels of non-reporting of discrimination to competent bodies that can deal with complaints. So what this would (suggest) is that member states are failing to directly respond to the situation of discrimination or racism, and that's the message that we want to get across from the survey."
Access to Justice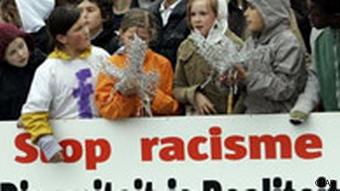 Amnesty says European governments need to accept racism exists in EU societies
Dr Nicholas Berger, director of Amnesty International's Brussels office, says European governments need to act on the FRA survey findings and adopt anti-discrimination legislation.
"We think it's incredibly important that all the member states and all the local governments as well as police particularly finally engage in … acknowledging the existence of racism, xenophobia and discrimination, that they finally actually really approach the issue of access to justice. People do not have access to justice in large numbers," he said.
The FRA plans to publish up to nine reports on discrimination in Europe, with the next - on Muslim minorities - to be released in late May. A final report is to be published late this year under the Swedish presidency of the EU.
Author: Darren Mara
Editor: Michael Lawton