The European Commission on Thursday urged the 27-member bloc to adopt a set of minimum rules that would ban anyone under 18 from purchasing or possessing a gun. An exception would be made for minors involved in hunting or target shooting under the supervision of an adult.
The move comes just several weeks after eight people were killed when an 18-year-old high school student opened fire in a classroom in Finland. The incident sparked copycat threats, including several in Germany, and discussion on gun control in the Scandinavian country and through the European Union.
"Recent dramatic events have shown just how necessary it is to better control the purchase and circulation of arms," said Commission Vice-President Gunter Verheugen of Germany.
Firearm database planned
In addition to making the age-limit more rigid, the EU wants its member states by 2014 to set up computerized databanks containing detailed information on each firearm and the names and addresses of both the supplier and buyer.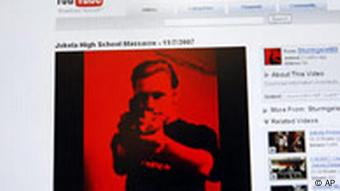 The Finnish gunman had announced his plans on the Internet beforehand
The data would be accessible to police and judicial authorities and would be kept on file for 20 years.
The Nov. 7 shooting in southern Finland served to shift public opinion in a country that has the third highest gun-possession rate in the world, behind the US and Yemen. The current legal age to apply for a gun license is 15, but officials have already said the country is prepared to raise the age to 18.
Critics of the EU ruling point out that the Finnish gunman was 18 and had a license for his 22-caliber pistol.
"I'm not sure [the directive] will be helpful," Ville Itala, a Finnish parliamentarian and former police chief, told BBC News. "From my own point of view, it was a mistake that police hadn't looked into his background."
EU justice ministers are expected to discuss the bill next week in Brussels. The new law still needs to be approved by the member states and would go in effect in January, said the European Parliament.