Initial investigations of a school shooting in Germany earlier this week indicated that the perpetrator purchased his weapons arsenal on the Internet.
Sebastian B. was a former student of the Geschwister Scholl School in the north-western town of Emsdetten. The 18-year old ran amok there on Monday, injuring 37 people before killing himself. The police in Münster investigating the shooting said the teenager had three guns and explosives on him.
Investigators looking into exactly how he acquired the weapons have been focusing their research on the Internet portal eGun, based in Darmstadt, where Sebastian B. is believed to have bought at least one gun. The site declined to comment on the allegations.
"There are very clear regulations regarding weapons purchases," said Christian Brockert, spokesman for the Federal Criminal Police Office (BKA), in Wiesbaden. "Of course if you have a license, it's very simple to buy certain weapons, such as in hunting shops."
Although the laws also apply to Internet sales, Gabriele Hermani, a spokeswoman for the federal interior ministry, said authorities were still reviewing whether Internet sales of weapons posed a legal loophole.
Weapons lobby says laws are adequate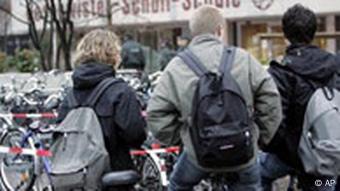 Shocked students at the high school met with psychologists after the incident
More gun control was nonetheless not the right solution, said Joachim Streitberger, spokesman for the weapons lobby group Forum Waffenrecht, based in Emmendingen.
"The instruments of the law are of little use when someone does not adhere to the law," Streitberger said. He said the current discussion was "a pseudo-debate," as Germany had among the strictest weapons laws in the world. Buying and selling weapons in Germany involves detailed documentation and proof of authorization.
"But it's easier to buy a weapon behind the train station than it is to legally do so," Streitberger said.
In Germany, the number of illegal weapons is at least double that of legal guns, he added. Legal weapons owners only account for 0.004 percent of all crimes committed with firearms in Germany. According to Streitberger, stricter laws would not reduce crimes with guns.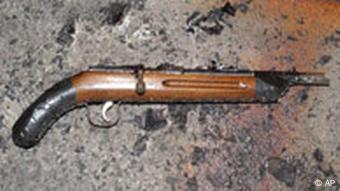 One of the gunman's three firearms was this small caliber vintage weapon
"We've always said to the government, 'Don't make the barriers too high or they will be disregarded,'" Streitberger said. Wolfgang Dicke, a federal police union weapons expert, agreed.
"You have to be careful that you don't overshoot the mark with bans," Dicke told the daily Süddeutsche Zeitung.
Streitberger said Germany was stuck between a rock and a hard place.
"It is always a tightrope walk between protecting society and ensuring individual freedom," Streitberger said.
Perpetrator had a history of illegal weapons use
The Münster police said they had found three seemingly historical firearms with the teenager's body. Two of the guns were so-called "percussion weapons." These are built according to antique constructions designed before 1870 and can be purchased without a permit. The third, a small-bore rifle, required a gun license.
Sebastian B. had also affixed three homemade pipe bombs onto his body, the police said. Five further such devices were found in his backpack.
Brockert from the BKA said cases involving replicas of guns or weapons made inoperative for decorative purposes were a problem.
"These weapons can be technically reversed," he said.
Germany's strict conditions for weapons sales didn't apply when an antique weapon was reconstructed and armed, Hermani from the interior ministry said.
Is society to blame?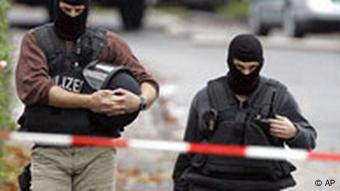 Police found explosives on the teenager's body and in his backpack
The shooting in Emsdetten has brought back memories of Germany's worst high school massacre in 2002 in the eastern German city of Erfurt. An expelled former pupil, Robert Steinhäuser, went on a shooting spree, leaving 17 dead including himself. The incident led German authorities to tighten weapons laws.
But at the time there was also a lot of public debate as to whether parents, teachers and Steinhäuser's surroundings carried responsibility for his crime.
In the current case, Sebastian B. had previously had a run-in with the police for his use of firearms. He was supposed to appear before the youth court in nearby Rheine on Tuesday on charges of violating the weapons law.
Adolf Gallwitz, a professor for psychology and sociology at the Polytechnic University for Police in Villingen-Schwenningen, said Sebastian had probably behaved conspicuously in the past.
"In the run-up to this, there were probably a multitude of distress signals," Gallwitz told the broadcaster ARD's Web site tagesschau.de. But the education system put teachers under too much pressure to react.
For Streitberger from Forum Waffenrecht, the laws are not the answer to keep teenagers like Sebastian from acquiring weapons.
"The weapons are not the problem," Streitberger said. "It's the way we are that is the trouble."