The European Parliament denounced members' involvement in extraordinary renditions in a resolution approved with a 334-247 vote on Thursday, Feb. 19. The resolution, which was welcomed by Amnesty International, comes two years after the parliament's report on European complicity in illegal CIA renditions.
Parliamentarians confirmed Thursday that several EU member states had "been involved, or had cooperated actively or passively with the US authorities" in illegal activities. Some Guantanamo Bay prisoners were kidnapped in EU member states by US authorities or flown over EU territory, making stopovers in Europe in some cases, said the parliament.
According to the report, Sweden, Bosnia-Herzegovina, Britain, Italy, Macedonia, Germany and Turkey were "responsible at varying degrees … for violations of the rights of specific persons." Germany has rejected the charge.
Seven other EU states -- Poland, Romania, Spain, Cyprus, Ireland, Portugal and Greece -- were accused of "active or passive collusion."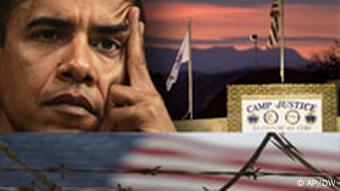 The EU welcomes Obama's plans to close Guantanamo
In addition, Poland and Romania may have harbored CIA detention centers, according to a 2006 Council of Europe report.
Parliament says closing Guantanamo not enough
The extraordinary renditions have been widely criticized, since the Sept. 11, 2001 terror attacks on the US.
In the week following his inauguration last month, new US President Barack Obama expressed his intention to close the Guantanamo Bay detention center, a move which the MEPs called "a big step forward."
However, they added that the president's orders "do not seem to fully address the issues of secret detention and abduction or the use of torture."
The parliament also said that officials from some European states had interrogated prisoners of Guantanamo or other detention centers, "thus legitimizing the existence of these facilities."
Britain accused of unlawfully detaining prisoners
Also on Thursday, the European Court of Human rights found Britain guilty of unlawfully detaining nine men under the anti-terrorism law it passed after the Sept. 11 attacks.
The men, suspected of having ties with al-Qaeda, had been held in high-security prisons. They said they were detained arbitrarily and had suffered inhuman treatment.
The court ruled that the detention of the men was unlawful, but did not find Britain guilty of subjecting them to degrading treatment.
London has denied the accusations, saying the prisoners had ties with Islamic extremist groups, but it was not immediately clear whether the government would appeal Thursday's rulung.