The European Union's chief Brexit negotiator Michael Barnier tweeted on Saturday that the bloc's remaining 27 member nations must maintain "special vigilance on financial security risk" when it comes to negotiating arrangements between the City of London - Great Britain's financial market center and a hub for international financial services - and the banking centers located on the European continent.
His tweet was directed at the British newspaper "The Guardian," which reported earlier on Saturday that Barnier had called for a "special" deal between the City and the EU in order to maintain the flow of credit to Europe from the departing nation's banks. According to an EU spokesperson, the "Guardian" report did "not correctly reflect" what Barnier said.
Confusion
Barnier made the contested statement last week during a closed-door meeting with members of the European Parliament. According to EU officials, Barbier was addressing the topic of equivalent financial regulations needed so as to limit contagion.
"The Guardian" quoted the meeting's minutes with Barnier's contested statement, saying it had received them from European Parliament officials:
"Some very specific work has to be done in this area …There will be a special/specific relationship. There will need to be work outside of the negotiation box … in order to avoid financial instability," Barnier was quoted as saying.
The statement, as interpreted by "The Guardian," reflects the EU's unease about losing access to the City's international financial trade and credit and the corresponding negative consequences for the bloc. But Barnier claimed he was trying to highlight the destabilizing potential of a City crisis on the EU should Brexit result in unlimited financial access without equivalent financial regulation.
Who will be worse off?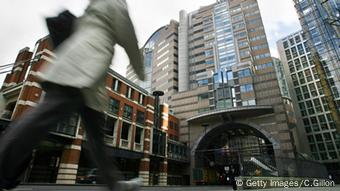 The City of London is a major international financial center
Both the UK and the EU continue to insist that the other party will be worse off after the UK leaves the EU.
The Maltese Finance Minister Edward Scicluna admitted on Thursday that the EU "will lose that efficient center [the City]" after Brexit. However, he simultaneously predicated that many financial firms would transfer their operations to the continent. Such relocation could be a boon to smaller, regional financial centers throughout Europe.
But Bank of England Director Mark Carney refuted Scicluna's view.
There are "greater financial stability risks on the continent in the short term, for the transition, than there are for the UK," Carney said on Tuesday.
cmb/tj (AFP, Reuters)