Lying in eight white caskets, the soldiers' remains were interred at the Estonian defense forces' cemetery in the Estonian capital, Tallinn. The controversial Red Army war memorial, which was removed from the city center in April, also stands at the cemetery.

A memorial plaque with the names -- in Cyrillic script -- of the soldiers was placed alongside the graves.

Relatives of four additional soldiers buried in the monument have been identified with the help of DNA testing. The soldiers' remains have been sent to Russia and Israel for burial while the remains of one soldier with relatives in Ukraine are still awaiting further tests.

Russians: We consider it unacceptable


Estonian government officials also visited the monument in May
Estonian Defense Minister Jaak Aaviksoo and Ukrainian diplomats attended the ceremony, but Russian representatives chose to stay away, saying they would honor the dead in a separate memorial service at another time.

"The Russian side has on the highest level declared that we consider it unacceptable that the monument was dismantled, the remains were exhumed and all this has been accompanied by attempts to rewrite history in order to win points in domestic politics," Russian embassy officials in Estonia said in a statement, according to AFP news service.

Different viewpoints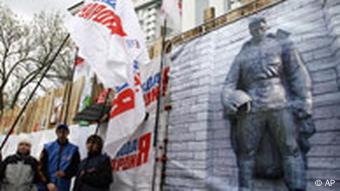 Russians protested outside the Estonian embassy against moving the monument
The episode has strained Russo-Estonian relations as Moscow called the removal of the monument and the dead soldiers a "blasphemous" affront.

Estonia's Russian minority also staged protests in April to demonstrate against the removal, which they saw as a move to dishonor the memory of Soviet soldiers who fought against the Nazi occupation of Estonia from 1941 to 1944.

Other Estonians meanwhile saw the monument as a reminder of Soviet occupation from 1940 to 1941 as well as almost 50 years of Soviet rule following the war. Thousands of Estonians were deported to Soviet prison camps and Russians settled in the country.

Estonia became independent in 1991 and joined the European Union in 2004.