Despite dismissing Twitter as "the worst menace to society" in June, Turkish Prime Minister Recep Tayyip Erdogan has now decided to use the social media site as a tool to revamp his government's public image. According to Turkish media reports, Erdogan's AKP party plans to have 6,000 volunteers tweeting its political messages.
As Turkish newspaper Hürriyet reports, the party wants to install "representatives for social networks" in about 900 districts in Turkey - with about 1,000 of the 6,000 volunteers based in Istanbul, 600 in the capital Ankara, and 400 in Izmir.
Opposition has a lead on social media
Turkish opposition forces have been using social media for months, organizing and coordinating anti-government demonstrations across the country on Facebook and Twitter. On one occasion, a single tweet led to hundreds of thousands of angry citizens taking to the streets to protest against Erdogan's perceived authoritarianism. The Internet became a bulletin board used for hate messages aimed at the Turkish government.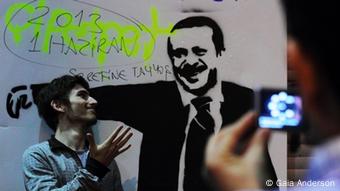 Erdogan wants to use social media to improve his image
"One has to beat them at their own game," Ankara's Mayor Melih Gökcek said. He has been one of the most active tweeters in the AKP party, fighting back when anti-AKP messages flooded Twitter by posting insults and threats of his own. He called BBC reporter Selin Girit a "spy" and threatened Turkish actor Mehmet Ali Alabora that the "government" would "get him."
Other tactics included simply arresting Twitter users in their apartments, with the police tracing incriminating tweets.
Social media as propaganda tool?
"Social media has been so successful during the protest movement that it has made independent media redundant. That was very frustrating for the Turkish government," said sociologist Yasar Adanali. It became clear during the recent protests that mass media was controlled by the government. "Over the past years, the influence of business on media has grown significantly. But social media and micro-blogging on Facebook and Twitter aren't easy to control," he said.
Because social media has been so successful, Adanali thinks the AKP has now realized that its dominance could be destroyed by a decentralized opposition and its social media power. But banning Twitter or Facebook isn't really an option, since the government is already being criticized as anti-democratic. "It is well aware of the fact that the only solution is to become more active itself," he said.
According to Adanali, the strategy will also be reflected in the upcoming district, presidential, and parliamentary elections. "Social media is a threat because it is able to influence those who have not decided how to vote yet," Adanali said. The AKP wants to make sure that it carries out a good propaganda campaign, which is why it decided to employ as many as 6,000 volunteers. "Such a project is going to be realized with huge amounts of money and probably in conjunction with a couple of companies. The government probably hired a PR company to create a network. The members could also come from AKP's youth wing," Adanali said.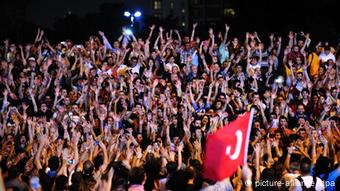 The protests in Gezi Park were mainly organized on social media platforms
It's quite likely that they will create a lot of fake profiles, he added. "It costs about 20 euros [$27] to buy 10,000 followers on Twitter. Then the government can present itself in a more active way and dominate certain issues."
No surprise
One of the most active opposition Twitter users in Turkey is the Taksim Solidarity Platform, which took on a leading role in organizing mass demonstrations via social media. An architects' association, now one of its most powerful members, strongly opposed the construction plans for Gezi Park that sparked the protest movement. For Taksim Solidarity Platform spokesperson Tayfun Kahraman, an architect himself, the government's new Twitter campaign is no surprise.
"Turkish politicians have understood the importance of social media. In the past few years it's become the biggest communication tool. Social media is now followed more closely than print media or TV, and its power was shown by the protests in Gezi Park," Kahraman told DW.
"Social media isn't just important for activists and demonstrators, but also for all politicians today - not just Erdogan," Kahraman said. US President Barack Obama, for instance, ran his election campaign almost exclusively online. "I think we in Turkey will have a similar process here," Kahraman said. And of course the Taksim Solidarity Platform will continue to maintain its strong presence on social networks too, he added.