"Instead of thanking this nation that quashed the coup in the name of democracy … you are taking sides with the coup plotters," Erdogan said Friday, in an angry speech at a police special forces headquarters in Ankara.
He was referring to comments made by US Director of National Intelligence James Clapper and General Joseph Votel, the chief of US Central Command, who had warned that many of Washington's key allies within the Turkish government have either been purged or jailed.
"We've certainly had relationships with a lot of Turkish leaders, military leaders in particular. And so I'm concerned about what the impact is on those relationships as we continue to move forward," Votel told the Aspen Security Forum Thursday.
Turkey has arrested nearly half of its 358 generals for complicity in the July 15 failed coup, forcing a sudden reshuffle at the top of the military.
The pair cautioned that the round-up of dozens of generals could affect the ongoing war against IS. The Incirlik Air Base in southern Turkey is where the US-led coalition launches airstrikes against the extremist group.
Erdogan reacts angrily
In response to the US pair's comments, Erdogan fired back: "It's not up to you to make that decision. Who are you? Know your place," he said, and hinted the United States could be behind the failed plot.
"My people know who is behind this scheme ... they know who the superior intelligence behind it is, and with these statements you are revealing yourselves, you are giving yourselves away," he said.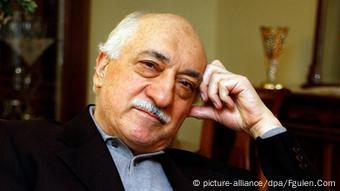 Turkey says Fethullah Gulen was behind the failed coup
In a reference to US-based cleric Fethullah Gulen, who Turkey accuses of masterminding the coup, Erdogan also said: "The coup plotter is already in your country, you are already feeding him." Turkey has called for Gulen's immediate extradition from the US, while Washington has said the legal process must take its course.
Votel rejects latest allegations
Later Friday, Votel rejected claims by Turkish officials that he was personally involved in the failed revolt.
"Any reporting that I had anything to do with the recent unsuccessful coup attempt in Turkey is unfortunate and completely inaccurate," he said, according to the statement
from U.S. Central Command.
Foreign Minister Mevlut Cavusoglu dismissed talk that the consequences of the coup could undermine the fight against IS, telling reporters in Ankara that the claims were "ridiculous" and "unfortunate."
Cavusoglu said the jailed officers are "not the only ones with the capacity to fight," adding that the military would be rendered more efficient by the purge.
Following the coup, Turkey declared a state of emergency. More than 18,000 people have been detained; close to 50,000 people have had their passports revoked and around 66,000 people in the wider civil service have been suspended from their jobs.
mm/kms (AFP, AP, dpa)