Turkish President Recep Tayyip Erdogan made his comments following a recent constitutional court ruling saying that the detention of two newspaper journalists had violated their rights.
Can Dundar, editor-in-chief of "Cumhuriyet" and his Ankara bureau chief, Erdem Gul, had been released pending trial on February 26, following the constitutional court ruling. Their arrest last November drew international condemnation and concern about media freedom in Turkey.
"I will remain silent to the decision the court has given. But I don't need to accept it. I want to make that clear. I don't obey or respect the decision," Erdogan told reporters in Istanbul.
"This has nothing to do with press freedom. This is a case of spying," he said.
"Cumhuriyet" had published video footage online purporting to show Turkey's state intelligence agency MIT helping send weapons to fighters associated with the self-styled "Islamic State" (IS) in Syria. The two journalists were charged with publishing material in violation of state security "for espionage purposes" and intentionally aiding an "armed terrorist organization."
A personal vendetta
Turkey's Constitutional Court remains as one of the few public institutions in the country that are not under Erdogan's control.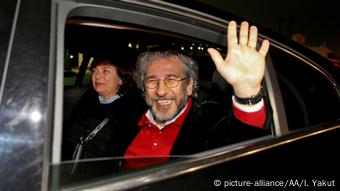 Can Dundar was released following the ruling, but is still awaiting trial in March
The court has in the past issued several rulings that went against the president, notably in May 2014, when it ruled that a ban on YouTube was unconstitutional.
The two journalists still face possible life sentences at a trial due to start on March 25. They are banned from leaving the country until the end of the hearings.
Erdogan had personally laid the charges against the two journalists and said that he would "not forgive such reporting," vowing that Dundar would "pay the price" for reporting on the story.
ss/gsw (Reuters, AFP)