In letters to her estranged husband, a woman cheerfully fills him in on her various love affairs, personal encounters, dreams and gossip from the Café des Westens on Kurfürstendamm in Berlin, where artists congregate.
The 42-year-old would have every reason to despair: in abject poverty, she lives off her friends, of which there are many: artists Oskar Kokoschka and Emil Nolde, authors Peter Baum, Richard Dehmel and Karl Kraus. The latter declared her "modern Germany's strongest and most unnavigable lyrical phenomenon." She dresses extravagantly, calls herself Prince Jussuf of Thebes, Blue Jaguar or Tino of Bagdad. She has an illegitimate son, celebrates sexual freedom, writes poems and plays, draws. And is Jewish.
Berlin's Lady Gaga
Else Lasker-Schüler was a sort of Lady Gaga of the early 20th century. The letters to her husband Georg Lewin, whom she'd named Herwarth Walden, date from 1911 and 1912 and were first published in Der Sturm, his magazine for contemporary art and literature, later in the novel Mein Herz (My Heart), subtitled "A novel of love, with pictures and real, living people." The German original has an additional subtitle: "My heart — (belongs to) nobody."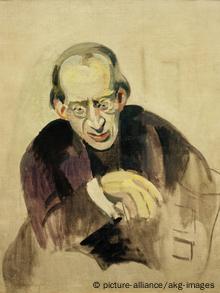 Her second husband Georg Lewin/Herwarth Walden was active on the Berlin arts scene
The reader soon stumbles over baffling turns of phrase such as: "It is so refreshing when suddenly all the burdensome thoughts and imbedded feelings glide from one's shoulders and one becomes a marionette, pulled about in fine silk strings... Since I met him, I often lean on the black painted walls of houses and become sweet."
The encounters and love affairs in My Heart are likely partly genuine, partly fabricated, but the distinction is unimportant. In their uncompromising subjectivity, Else Lasker-Schüler and her avant-garde contemporaries had declared war on bourgeoise culture and were carving out a utopian counterculture and reality of the soul in cheap hotel rooms, cafes and on the street. In that, Else looked up to her prophet Peter Hille, the "homeless poet," who had also lived on the fringe of society.
Self-reliant woman
"I have said it to you many times, Herwarth, I shall play Augustus and speak through my nose about my fakir and my Ached-Bey and my poetry. Gangolf was moved by it…"
A Lasker-Schüler-newcomer has a hard time making heads or tails out of passages like that. Are these hallucinations, neologisms, fantasies, dreams, invented characters, or are they genuine? And is this prose or poetry? The boundaries are fluid in this wordcrafter's idiom. The sole constant is the inner world, the self.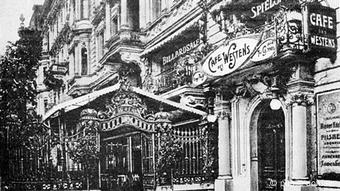 This is where the artists hung out in the 1910s
And she has one unshaken belief: in her own heart, unfathomable though it may be. "But who knows about my heart? … I lie between ocean and desert, a mammoth. My structure is terrifying and impressive … My heart is very sick, or does it feel excessively large? … Yesterday evening my heart was granite red, I could hear, taste the color in my mouth. My heart was the sunset, and sank."
Else's ethos
But for her core conviction, Else Lasker-Schüler finds clear words: "One cannot enter heaven if one does not have it within oneself, only the eternal presses forward towards eternity…Heaven doesn't reward or damn. …The divinity of heaven in human beings is genius."
Sometimes, in the overall playful mood of the text, a yawning chasm of loneliness opens up: "I am so alone; were I at least lonely, then I could make poetry out of it. I am the last shade of abandonment, nothing comes after. … What good do your dear letters and postcards do me? I know you and you know me, we can no longer surprise each other, and I can only live on miracles. Invent a miracle, please!"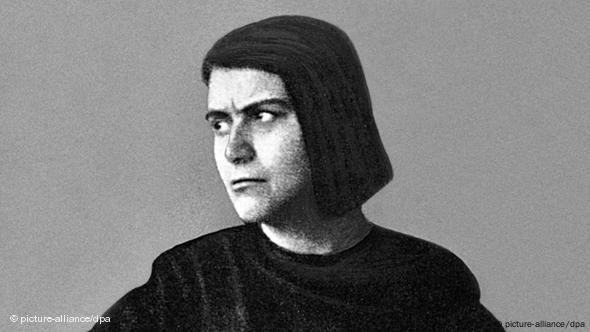 Else Lasker-Schüler's writing may be the most challenging literature to translate
In one of the final letters in the collection, the writer seems close to her lifetime goal of unconditional and absolute artistry, yet the tone is one of resignation: "Now I am a transparent, bottomless ocean, I feel that there is no solid ground beneath me any longer. … What good to me now are your ready and willing hands and all the other clutching, anxious fingers surrounding me, through which my boundless soul flows … I have no focus, my words are spread out everywhere, my words come from everywhere."
Ample rewards
My Heart is Else Lasker-Schüler's farewell not only to Herwarth Walden, but also to a scintillating but doomed cultural scene in Berlin on the eve of World War I. The 99 pages often read like dense poetry in prose form, lacking rhyme or rhythm but endowed with scintillating colors, sudden mood swings, eruptions of thought and baffling mental detours.
It's recommended that one assimilate My Heart in small doses –— and to be aware that the rich associations in the original German can only partly be conveyed in translation. Still, accolades go to Sheldon Gilman and Robert Levine for their vivid, creative use of language for the English version.
The only way to approach Else Lasker-Schüler is on her own terms. Do so, and the rewards will be ample.
Else Lasker-Schüler: My Heart, November Editions (German title: Mein Herz, 1912). Translation: Sheldon Gilman and Robert Levine
Else Lasker-Schüler, born into a Jewish banker's family in Wuppertal-Elberfeld in 1869, is considered the most important female German expressionist poet. In addition to several volumes of poetry, she wrote plays, short stories, essays and letters. In Germany between the world wars, she advocated equal rights for homosexuals, and later in Israel, reconciliation of Jews and Arabs. In 1932, she fled Germany for Switzerland and later, for Palestine. After the divorce with her husband Herwarth Walden, Lasker-Schüler remained without a steady home until her death in 1945.