Leipzig Zoo has lost the battle to save the life of one of its newest residents: The elephant calf was put down on Tuesday afternoon (31.03.2015), less than a week after its birth.
"We did everything possible, our medical staff went to the limits and left no stone unturned," said the zoo's director, Jörg Junhold. "Now we have to spare the little one from suffering."
The female Asian elephant calf, dubbed Rüsselchen - meaning "little trunk" - by the German press, was born last Wednesday. She weighed in at just 68 kilograms (150 pounds) - a low birth weight for the species. Keepers realized all was not well when the little pachyderm struggled to stand.
The following day, it was confirmed that the calf had a fractured femur. Staff at the zoo believe the mother accidently trod on the infant's leg in the moments after the birth.
A risky operation to mend its leg initially appeared to have been a success. But by Monday, the elephant was having difficulty feeding, and its condition had deteriorated to the point where it could no longer stand. The painful decision was made to end its short life.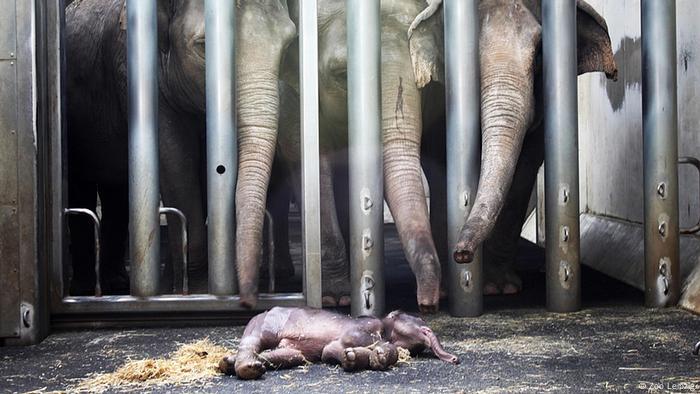 Other Leipzig Zoo elephants said goodbye to the calf after it was put down on Tuesday
Junhold said the whole team at Leipzig Zoo was saddened that their efforts had been in vain, and that they had ultimately been powerless in saving the calf's life. It was put down Tuesday afternoon.
"The last six days have been an emotional rollercoaster," said Junhold.
The calf's mother Hoa, and other members of the zoo's herd, were given the chance to say goodbye before the corpse was taken for post-mortem analysis.
Elephants in the wild are known to feel and express sorrow for their dead, gently touching the body with their trunks, Junhold told DW.
"That's why when the calf died, we showed it to three of the females, including the mother," Junhold said. "They showed the same kind behavior. We could see that it was like a ceremony to say goodbye. It was very moving."
This was not the first time Hoa had lost a baby; in 2012, she attacked and killed her first calf shortly after it was born. Junhold said it was unclear whether this was a deliberate act of aggression, or a result of pain that the new mother was experiencing.
In the mid-1980s, the Leipzig Zoo imported four elephants from Vietnam with the aim of establishing a breeding herd of the endangered animals. But the only calf to survive past infancy was Voi Nam. That birth, in 2002, was the first at the eastern German zoo since 1936.
Still, another of the zoo's elephants is pregnant and staff are looking forward to what they hope will be a more successful start to life for the calf due at the end of this year.