The concert hall has developed into the most-visited place in Germany within an extremely short period of time, according to Carsten Brosda, Hamburg's state culture senator.
The Elbphilharmonie has now been presenting concerts for exactly 100 days. Brosda adds that since it opened on January 11, audiences totaling about 250,000 have attended 190 sold-out concerts in the Grand Hall, Recital Hall and the Kaistudio. "The Elbphilharmonie has put Hamburg back on the map as a cultural metropolis, both here and abroad, permanently changing perceptions of the city."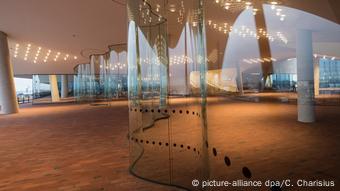 The Elbphilharmonie's public observation deck provides a panoramic view of Hamburg.
The Elbphilharmonie Plaza is open from 9 a.m. until midnight daily. Because space is limited, admission is regulated via free tickets. Plaza tickets for a same-day visit are available at the visitors' center, at the Plaza ticket machines and in the main entrance area of the Elbphilharmonie.
Neuschwanstein had 1.43 million visitors last year, though, admittedly, admission to the fairytale castle costs 13 euros.
ak/ms (epd)