Aida Seif el-Dawla, one of the founders of the Nadeem Center for the Rehabilitation of Victims of Violence said the move came as a complete surprise.
"Two policemen... turned up today at the center with an administrative decision from the health ministry to close" el-Dawla said on Wednesday.
"The decision did not give any reasons," she added. "We managed to persuade them to postpone the closure until we went to the health ministry on Monday to understand the reasons."
A ministry spokesman accused the center of holding "activities other than the activity allowed in its permit," but did not specify what they were.
El-Dawla vowed to defy the closure order. "Unless they arrest us all, we will continue in our work as long as we remain out of prison," she said. "It would be stupid if they shut down the center because we provide a service that no one else provides to the underprivileged."
The Center was established in August 1993 to provide psychological management and rehabilitation to victims of torture. Together with other NGOs and individuals it also provides social support and reference to legal aid resources. It also campaigns on particular torture cases and on torture in general.
Amnesty backing
Amnesty International slammed the government order, saying it "appear(s) to mark an expansion of the ongoing crackdown on human rights activists in Egypt."
Amnesty's deputy director for the Middle East and North Africa, Said Boumedouha, called on Egypt to "freeze the order to close the center and provide it with a clear explanation of the reasons behind the order."
The center "must be given an opportunity to challenge the order before a court," he said.
It "provides a lifeline to hundreds of victims of torture and the families of people who have been subjected to enforced disappearance," Boumedouha said. "This looks to us like a barefaced attempt to shut down an organization which has been a bastion for human rights and a thorn in the side of the authorities for more than 20 years."
NGO closures
More and more NGOs in Egypt are being closed under what government critics say is a rollback on political freedoms won in the pro-democracy uprising in 2011, which ended 30 years of authoritarian rule under President Hosni Mubarak.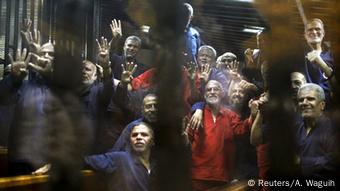 Muslim Brotherhood supporters on trial in Cairo last year
Egyptian authorities have denied allegations by human rights groups and activists that security forces round up people and detain them in secret detention centers where they are tortured.
President Abdel Fattah el-Sissi toppled Islamist President Mohammed Morsi in 2013 after widespread protests against his rule.
But under el-Sissi, hundreds of Morsi supporters have been reported killed and thousands more jailed. The announced closure of the Nadeem Center has been described by critics as an attack on secular activists.
bik/sms (Reuters, AFP)