When Rianne was four months old, she seemed to be normal and healthy. But then her development stalled, although she was fed twice a day by her mother. But the meals were made of just rice and water, so Rianne lost weight and was underweight by the time she was one year old.
She was lucky, though, as her mother received some training via a radio program and a local nutritionist. She learned how to make simple, but healthy meals for her children. That is what saved Rianne. She started growing again and developed normally. In a few years, she should be able to start school.
Millions of children in Asia and Africa do not get that chance. The lack of adequate nutrition in the first few months stays with them. Children who do not get enough healthy food in the first thousand days of their lives, suffer lasting damage, according to development experts.
"The decisive phase starts the moment the child is conceived and ends with the child's second birthday," said Simone Rapp from Germany's Welthungerhilfe (World Hunger Aid). From then on, it is virtually impossible to reverse the damage.
Millions starve
It makes for grim reading: Worldwide, millions of children under the age of five are underdeveloped, because they are not getting the right food. That is why they have vitamin and mineral deficiencies. Infectious diseases and anemia are common in these children. They are small and skinny, their immune system is weak, their motor skills are poor and they can be mentally underdeveloped too.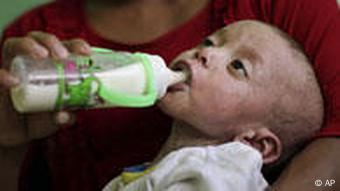 Malnourishment at a young age mark a person for life
The UN Food and Agriculture Organization (FAO) points out the long-term impact of the lack of adequate food. It makes children less able to learn and therefore makes it unlikely that they will finish school. And that means fewer people will train to enter the workforce and help their country's development.
The life expectancy of babies in the affected countries is equally grim. Three million children die each year of malnutrition before reaching the age of five, according to the Red Cross.
Light and shadow
Countries in South Asia and Sub-Saharan Africa are most affected by malnutrition. Ninety percent of the world's malnourished children live there. In Burundi, Ethiopia, Malawi and Rwanda, more than half of all children are underdeveloped. In Bangladesh, it is 48 percent.
India, one of the emerging economic powerhouses, holds the grim record for the highest number of malnourished children worldwide. But the Indian government recently lowered the official numbers of those living in poverty and cut benefits, according to Simone Rapp, to polish their image as an economic success story.
But there is some good news too. In Thailand, government programs have helped change certain habits, and thus, reduced malnutrition. The same applies to China and Brazil, where state-financed education and health projects have had some success.
What's needed
While industrialized nations like Germany are producing overweight or over-stimulated children with busy schedules, fueled by ambitious parents, children - and parents - in many developing countries still lack the basics. Experts agree that a whole host of measures is needed to break the cycle of malnutrition and poverty, if there is any hope of turning a hunger for food into a hunger for education.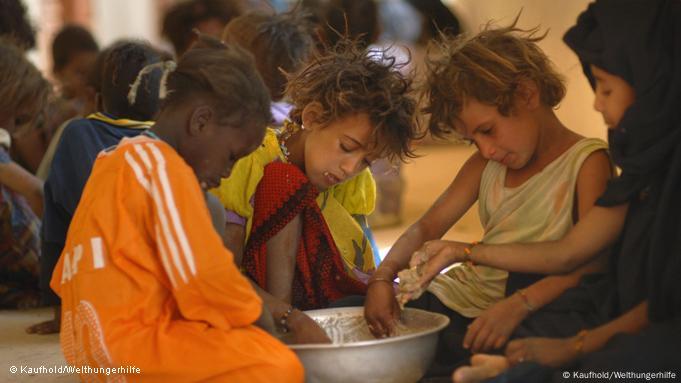 Children are better able to learn with a full stomach


Access to clean water, proper sanitation, health care and routine inoculation are all important factors in that process.
"Educating parents, training teachers and establishing schools that take into account children's needs in rural areas, must all go hand in hand," Rudi Tarneden from UNICEF Germany explained, pointing to the organization's "Schools for Africa" project.
Ideally, of course, children should grow up in an environment that is free of conflicts and civil wars. Millions of children not only live in poverty, but in constant fear for their lives.
Educating mothers
Women who have suffered from malnutrition when they were children are more likely to give birth to malnourished babies, exacerbating the problem. Aid organizations therefore emphasize that it is essential to help mothers and provide them with all the information and training they need.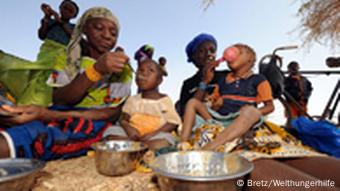 The first step is to keep children fed; the second is to make sure they eat right
"Many women believe, a bowl of maize porridge is enough," said Rapp. "But children need a different kind of nutrition. The problem is that the mothers are not educated enough, and it's that ignorance that stands in the way of development." she explained.
Germany's Welthungerhilfe is trying to help educate mothers in Africa, Asia and Latin America by offering practical advice.
"In Burundi, for example, we offer cooking classes for pregnant women and mothers. We use simple, colored signs to teach women why children need a different kind of diet from adults," Rapp said.
Many mothers would love to feed their kids better, if they had the means. But incomes are low and food is too dear. Markets, hospitals and other medical centers are often far away from home. Sometimes, tribal traditions and superstition keep the women from attending the classes.
And, more often than not, women are not seen as on a par with men. Gradually, people are beginning to realize that even men could benefit from better nutrition. But it's a slow process and Rapp says it is not easy to approach villagers.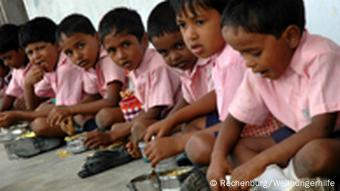 Aid groups say fighting malnutrition needs to be a priority
"Many show an interest, but there are just as many who are very hesitant. Trying out new things is often not popular. That's why we need positive examples. To prove to them that it works. In any case, it requires a lot of patience," said Rapp.
A political challenge
All that costs money, of course - money that some countries do not have. But others do have the funds, which is why aid organizations call on their governments to make the fight against malnutrition a priority.
Aid workers have experienced a reluctance on the part of some governments to implement aid programs, despite the shocking numbers. But German and other international aid is still in high demand.

"We need more funds for the education of children in the most disadvantaged countries," said Rudi Tarneden. For children like Rianne and millions like her, who just want a chance.
Author: Cornelia Rabitz / ng
Editor: Nancy Isenson