India has welcomed the seven billionth person to the world with the birth of a girl named Nargis in Mal village on the outskirts of the Uttar Pradesh state capital, Lucknow. Plan International, a UK-based civil society organization with its presence in 50 countries across the globe, organized the event.
"This is a symbolic event where we are treating the survival rights of the girl child as the milestone," said Plan International official, Davinder Kumar.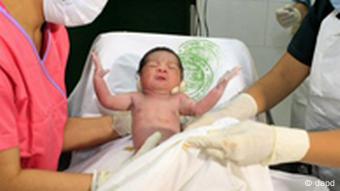 The birth of Danica May Camacho is celebrated in the Philippines
Nargis' father, Ajay, a farmer by profession, is jubilant. "We are very happy with the birth of our daughter. My wife and I will ensure that Nargis studies well and does well in life."
Seven billion and counting
The United Nations had forecast Uttar Pradesh as one of the possible birth places of the world's seven billionth citizen based on probability and a complicated set of calculations. Approximately 51 babies are born every minute in India; of them, 11 are born in Uttar Pradesh alone. The Indian state now has a population of 199,500,000 people – just under that of Britain, France and Germany combined.
The Philippines also welcomed a seven billionth baby at a government hospital in Manila. Danica May Camacho was born just after midnight. And Bangladesh has also celebrated with the birth of newborn Oishi at the Azimpur Maternity Hospital in Dhaka.
Great population problem
For the Indian government, Nargis is little more than a statistic in India's rapidly increasing population. With a country grappling with 1.21 billion plus people, Nargis has become in many ways the face of India's biggest challenge – a burgeoning population that the Indian government is not sufficiently able to address.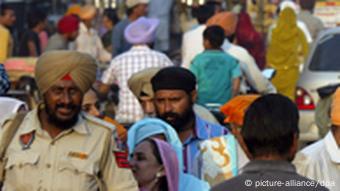 The Indian population is expected to surpass China's by 2025
The Indian population is now nearly equal to that of the United States, Indonesia, Brazil, Pakistan, Bangladesh and Japan combined, making it the world's second largest after China's. And it is on the rise – in the past decade, it has increased 17 percent from 1.03 billion people in 2001 to 1.21 billion in 2011.
Earlier this year, India conducted its most extensive census ever. The most alarming finding was the continuing penchant for sons over daughters.
Health Minister Ghulam Nabi Azad has pointed out the dangers of overpopulation, saying, "we can't fool ourselves anymore. Unless the rapid growth of population is contained, it will be difficult to ensure quality education, healthcare, food, housing, clean drinking water, sanitation, hygiene and a healthy environment for all." Yet he also made it clear that no legislation would be brought for population control.
High maternal mortality  
India is among the five countries with the worst maternal mortality rate, which lies between 250 and 300 per 100,000. According to figures provided by the World Health Organization and voluntary bodies, a woman dies every eight minutes from pregnancy-related causes in India, adding up to a total of around 70,000 maternal deaths every year.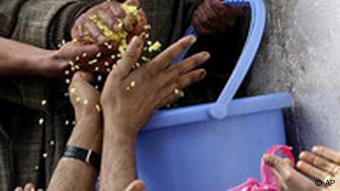 Hunger and resource scarcity are byproducts of overpopulation
In other words, of every 70 Indian women of reproductive age, one will eventually die because of pregnancy, childbirth, or unsafe abortion, compared to one in 120 in Pakistan, Sri Lanka, the Maldives and China and one in 7,300 in the developed world.
The UN predicts that India will overtake China as the world's most populous nation by 2025, when it will have almost 1.5 billion people. Unlike India, China's family planning and one-child policies have helped contain its rapid rise in population.
Author: Murali Krishnan
Editor: Sarah Berning