Thanks to Judith Jones, American readers got to know the story of Anne Frank, a young Dutch girl who kept a diary while hiding from the Nazis in an Amsterdam apartment.
Jones "was a legend in book publishing," said chairman and editor-in-chief of the Knopf Doubleday Publishing Group, Sonny Mehta, in a tribute to the literary editor who worked for the leading US publishing house for more than 50 years - and famously rescued Anne Frank's "Diary of a Young Girl" from a rejection pile in Paris.
The editor passed away at her home in Vermont on Wednesday, according to the publisher. She was 93.
The discovery of Anne Frank's diary
While in her 20s, Jones had worked for Doubleday in Paris, where she discovered Anne Frank's diary - and convinced her boss to have it published.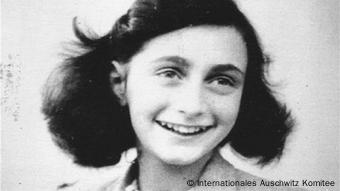 Anne Frank's diary is famous all over the world
The diary had first been published in the Netherlands in 1947, and in France and Germany three years later. In the US, it appeared in 1952, starting out with a modest 5,000 copies and a preface by former first lady Eleanor Roosevelt.
Read more: Rare Anne Frank poem sells for 140,000 euros at auction
The diary Anne Frank kept while in hiding with her family between 1942 and 1944 is now one of the most famous books in the world and has been a fixture on school curricula for decades. Worldwide, the diary has sold more than 30 million copies in 67 languages.
Anne Frank died in the Bergen-Belsen concentration camp just months before the war ended, making her story all the more poignant.
Launching Julia Child
Jones also introduced readers to American culinary writer Julia Child, persuading Alfred Knopf in 1961 to publish the then unknown writer's "Mastering the Art of French Cooking." Jones herself had come to love French food after her stay in Paris after college.
A staple in US kitchens, the book has sold millions of copies, bringing French cuisine to generations of American home cooks.
Read more: Classic German baking recipes revealed in new cookbook
Read more: '50 Kitchens, One City': 50 restaurants, countries and recipes in Berlin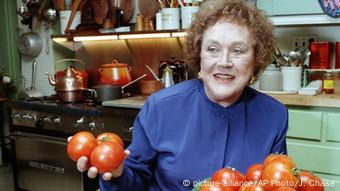 Julia Child, pictured in 1992, changed how many Americans thought about food
"It is no exaggeration to say that she profoundly influenced not only the way America reads, but also the way we cook," Mehta said Wednesday.
Gateway to great cuisine
The book made a comeback in 2009 when moviegoers learned about the editor and the cookbook writer in "Julie & Julia," starring Meryl Streep as Child and Erin Dilly as Jones.
Besides Child, Jones also edited cookbooks for top chefs like Alice Waters, Edna Lewis and Claudia Roden.
Judith Jones won five Pulitzer Prizes, five National Book Awards and three National Book Critics Circle Awards, and her cookbook authors won dozens and dozens of prizes, said Knopf Doubleday.
The editor also maintained a blog, judithjonescooks.com, as well as several books, the most recent being "The Pleasures of Cooking for One" and "Love Me, Feed Me: Sharing with Your Dog the Everyday Good Food You Cook and Enjoy."
db/kbm (AP, AFP)