Ecuador's Electoral Council reported preliminary results giving Lenin Moreno of the ruling leftist Alianza PAIS party a lead over his rival for the presidency, former banker Guillermo Lasso, in Sunday's election. With 78.4 percent of the votes counted, Moreno had 38.83 percent over 28.63 percent for Lasso.
It was unclear if Moreno had enough votes to avoid a second-round run off.
Moreno needs 40 percent of valid votes and a lead of 10 percent over his nearest rival in order to avoid a second round on April 2. Voting is mandatory in the South American, oil-producing state for the 12 million people who are entitled to vote for the president, the vice-president and 137 seats in the legislature.
TVC television put Moreno on 36.1 per cent and Lasso, on 26.1 per cent. A poll for the Ecuavisa and Teleamazonas channels predicted 39.4 per cent for Moreno and 27.7 per cent for Lasso.
Pollsters Cedatos gave Moreno 39.4 percent of valid votes over 30.5 for Lasso while OPECUADOR showed Moreno ahead with 42.9 percent over 27.7 for Lasso.
The winner will take over from the three-time President Rafael Correa who won his first election in 2007. Correa oversaw rising living standards and the improvement of public services, with spending on roads, schools, clinics and social housing. But Correa decided not to stand for a fourth term.
The outgoing president's record on cleaning up government has come under scrutiny with a number of accusations of corruption. Odebrecht, a Brazilian construction firm that bribed officials across Latin America, paid $33.5 million (31.5 million euros) to Ecuadorean officials between 2007 and 2016, according to the United States Department of Justice.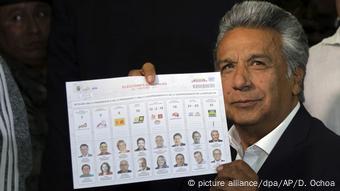 Moreno may face a united conservative opposition in a second-round run off
Moreno has promised to increase cash benefits for the poor, raise pensions and build "housing for all." He has also promised benefits for the disabled, single mothers and the elderly. The 63-year-old was shot during a robbery twenty years ago and lost the use of his legs.
Lasso, a conservative banker from the coastal city of Guayaquil was runner-up in the 2013 presidential election. Running for the Creando Oportunidades (Creating Opportunities) party, he promised to cut taxes and reduce bureaucracy. He also promised to examine contracts and loans with China, Ecuador's top creditor since the country defaulted on $3.2 billion (3 billion euros) in bonds in 2008.
WikiLeaks founder in the Ecuadorian embassy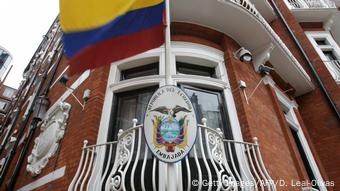 Wikileaks founder Julian Assange has been in the Ecuadorian embassy for five years
Lasso also said he would remove Wikileaks founder Julian Assange from the country's embassy in London, where the Australian has been since 2012 to avoid extradition to Sweden over rape allegations.
"Ecuador had no business spending a single cent protecting someone who definitely leaked confidential information," Lasso said last week, ahead of Sunday's election. "I will take on the responsibility of inviting Mr. Assange to leave the Ecuadorean embassy at the latest 30 days after the start of our government."
Moreno has said he would continue to grant Assange asylum which was granted to him under outgoing leader Rafael Correa.
The new president will be sworn in for a four-year term in May.
Ecuador faces greater economic uncertainty. The halving of the price of oil since 2014 has pushed the economy into recession and increased the budget deficit. The country's GDP contracted by 1.7 percent and employment fell by 244,000 in 2016.
jm/bw (Reuters, AFP)