At the Vital Tech internet cafe in central Monrovia, Darlington Micah is busy updating his Facebook page in which he tells friends and followers about Ebola in Liberia.
The internet cafe is Micah's gateway to the virtual world where he can communicate, network and even learn from others while avoiding bodily contact with individuals who might be harboring the deadly Ebola virus.
He says he visits the internet cafe four or five times a day."I am very active in Ebola response. At this time right now, being in the cafe is much safer than being in the street where there is so much prevalence of Ebola in the country," he told DW.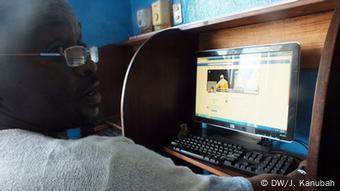 Darlington Micah: online and active in Ebola response
Janet Fallah is another Liberian social media fan. "It is important to me because I talk with my friends and family outside Liberia and also here in Monrovia. So I feel like it is good to me" she said.
Social media is evidently helping Liberians survive the prolonged Ebola nightmare. Social entrepreneur and IT professional, Caesar Morris runs the I-Cafe, another internet cafe in Monrovia. He says internet traffic caused by Facebook usage has increased in Liberia since the arrival of Ebola.
'Huge number of Liberians online'
He said that if you want to get in touch with a cousin, an old friend, or somebody you haven't seen since the start of the Ebola outbreak then "the best way to check on them is through Facebook."
Morris told DW eight of ten customers in his internet cafe use Facebook. "It has been the one media that has crossed boundaries - that has gone beyond where the radio will reach and television will go."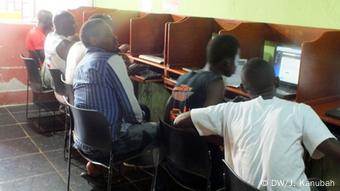 'Eight out of ten internet customers use Facebook'
Morris is convinced that a "huge number of Liberians" prefer to be online rather than risk their lives mingling with other people on the streets or in their communities.
Social media is "the only thing that is keeping us together, that is keeping us connected." Morris said.
Figures released by the World Health Organization on Friday (31.10.2014) showed 2,413 people had died of Ebola in Liberia since the start of the outbreak earlier this year.