DW: Why is legislation needed to prohibit the sale of e-cigarettes to youngsters?
Pötschke-Langer: Ever since the beginning of the aggressive marketing campaigns, we have warned against addressing children and adolescents. About 30 percent of 12- to 17-year-olds have tried out these products. That does not mean that they are steady smokers but the products have actually been sold to children. It seems highly problematic that this chemical mixture is inhaled by the smoker. It reaches the respiratory tract and the lungs of children and adolescents.
What chemicals are in them?
They are mostly propylene glycol and glycerin, flavoring, and nicotine. Carcinogens have been detected in some of the aerosols in these products, i.e. substances that cause cancer. The product range is great and also very appealing to children. Some of these products are purchased mainly by children. They are very colorful, like pencil crayons. They sell for about a euro each.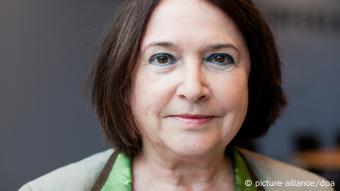 Martina Pötschke-Langer says e-cigarettes have been cynically targetted at youngsters
Are e-cigarettes mainly produced for children?
Yes, the marketing is definitely geared towards youngsters, especially because children like the flavors, like bubble gum. You have the feeling you are inhaling the taste of apple or peach or other fruits. The design is also problematic: they are eye-catching and some of them decorated with glitter stones.
E-cigarettes were actually designed to replace tobacco cigarettes to help smokers gradually give up smoking. Why have children been targeted as consumers?
Producers have used unscrupulous strategies to build up a market made up of children and adolescents. That was intentional and we have studies on the subject. That is why we welcome the German government's decision to regulate the sale of e-cigarettes - with and without nicotine.
Why has no one tackled this problem before? Preliminary studies had already been published when e-cigarettes came on the market.
No one expected masses of youngsters to try them out. Now, after years, we have managed to put together valid data for Germany. It is so frightening that politicians have acted swiftly. Legislation protecting youngsters will be adopted relatively quickly.
What has to be done now to protect children and adolescents?
The Internet and social media must be monitored more closely. Aggressive advertising for e-cigarettes and e-hookahs on these media outlets is very problematic.
Is second-hand smoke from e-cigarettes just as dangerous as tobacco cigarette smoke?
Emissions clearly worsen indoor air quality, especially if several people in one room are smoking e-cigarettes. There is a high increase of respirable particles that remain in the lungs and are then absorbed by the rest of the body. In indoor air measurements, carcinogenic substances have been found: acetaldehyde, formaldehyde and metals. E-cigarettes must be treated like tobacco cigarettes.
Are there long-term risks and damage for children and adolescents?
There are not enough studies because the products vary greatly and have not been subject to tests. Also, they have only been on the market for a short time. But now, many laboratory studies are being conducted. I think we will know more in a year or two.
Martina Pötschke-Langer is head of the Cancer Prevention Division and the WHO Collaborating Center for Tobacco Control at the German Cancer Research Center (DKFZ).