Rinus Michels, the coach who invented the total football played with such verve by Ajax Amsterdam and Holland, died on Thursday aged 77. For soccer fans in Germany, he will be remembered as a coach of FC Cologne and Bayer Leverkusen but most prominently as the man who almost denied West Germany the 1974 World Cup.
Michels coached Ajax from 1965 to 1971 when a team led by the incomparable Johan Cruyff won four Dutch titles. They won the first of three successive European Cups under Michels, against Panathinaikos in 1971, after losing the 1969 final to AC Milan, before Michels accepted a big-money move to Barcelona whom he coached from 1971 to 1975. Cruyff joined his mentor in Spain and helped Barca prise the Primera Liga title from the grip of Real Madrid.

Michels -- known both as The Sphinx for his thoughtful approach and stony features, and The General for his commanding presence -- coached Holland, with Cruyff, Johan Neeskens, Ruud Krol and Johnny Rep, in the 1974 World Cup where they played the best football but lost the final 2-1 to West Germany when they failed to match the Germans' fighting spirit.
Michels started the same 11 players in every match of Germany 74, except in the group match against Sweden when he inserted Piet Keizer for Rob Rensenbrink.
Gifted, wayward 'son' honors disciplinarian 'father'
"Both as a player and as a trainer there is nobody who taught me as much as him. I will miss Rinus Michels," Cruyff said. "I always greatly admired his leadership."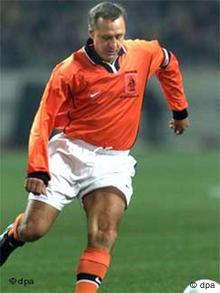 Johan Cruyff in action during a charity matchin 1999.
"He was always very clear in what he wanted and what he expected from you and sometimes in order to achieve that he overdid it a bit. Then when things started working, he would ease up a bit and give you more freedom." Holland, without Michels and Cruyff, lost the 1978 final after extra-time to Argentina.
After the heartbreak of World Cup defeat in 1974, Michels returned to West Germany to coach Cologne and Bayer Leverkusen and also led Los Angeles Aztecs as well as having second stints at Ajax and Barcelona, but always fostered a yearning for success in the international arena.
International glory achieved
Michels, named coach of the century by FIFA in 1999, eventually achieved his goal when he returned to lead the Oranje in 1986 and coached them to the European Championship title in 1988 when a Holland side containing current Dutch coach Marco van Basten, Frank Rijkaard and Ruud Gulllit matched the flowing football of Cruyff's era to beat the Soviet Union 2-0 in the final.
"The passing away of the grand old man of the training camp, the father of Dutch football, is an enormous loss for the football world," said Van Basten while Gullit, now coach at Feyenoord, said: "For him you wanted to give everything. He was a warm and humorous man."
The soccer world mourns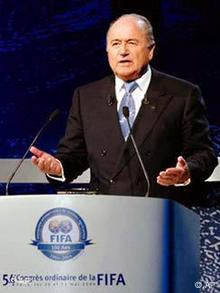 World soccer governing body FIFA President Sepp Blatter.
"The sad loss of Rinus Michels fills FIFA and the whole football world with immense sadness. Rinus Michels carried the colors of the Netherlands to great heights by assembling the magical team led by Johan Cruyff that spawned the phrase 'total football'," FIFA President Sepp Blatter said in a statement after Michel's death was announced.
England coach Sven-Goran Eriksson later paid his tribute to Michels, describing the former Holland coach as a legend. "I met him many times. He was a great man, a legend," said Eriksson. "His philosophy of 'total football' caught the imagination of everyone in football."
"There is no one in the game who does not think of him as one of the greatest coaches there has been. I have read his books and, like almost all coaches, have learned very much from him."
A great legacy
"He built the foundations for the great Ajax teams of the 1970s and then took that success to the Dutch national team. The 1974 World Cup and 1988 European Championship teams were both tactically and technically fantastic, playing wonderful attacking football. This is a sad day, but Rinus Michels leaves football with a great legacy."