"We must not let ourselves be scared by stories in which internationalization is something negative which is swamping us," Dutch Education Minister Ingrid van Engelshoven said on Monday. Her comments came amid calls from some of her colleagues to rein in the spread of courses taught in English. Many claimed that the Dutch language is under threat.

"I represent an open Dutch society in which we dare to look beyond the borders," van Engelshoven said.

International students are attracted to studying the Netherlands by the large number of degree courses taught in English — the largest in continental Europe — and low tuition fees for EEA nationals. While most bachelor's degrees in the Netherlands are taught in Dutch, 74 percent of master's courses are offered in English. About a quarter of students obtaining a master's are foreigners. Critics fear that they will displace Dutch students.
Read more: German university tuition fee proposal sparks criticism
The Netherlands' largest lecturers' union, Beter Onderwijs Nederland (BON), warned of the looming "linguicide" of the Dutch language if the trend continues. It is suing the University of Twente and the University of Maastricht for "anglicizing" courses without a valid reason. Two master's degree psychology courses are offered exclusively in English by both universities, something BON says is an "impoverishment" and a "dangerous abandonment" of the Dutch language, according to the Volkskrant.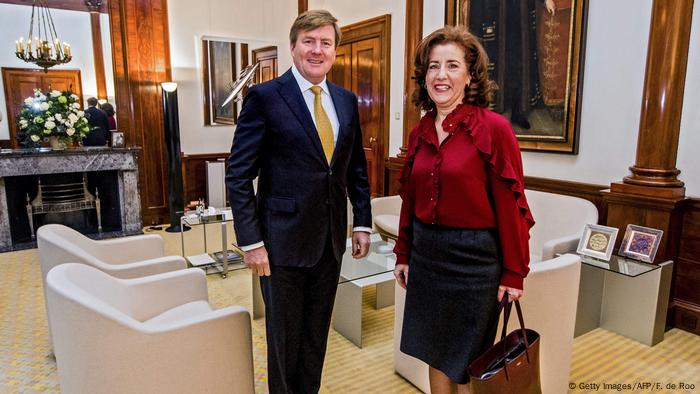 Dutch King Willem-Alexander with Dutch Education Minister Ingrid van Engelshoven
Van Engelshoven said she wants to make sure that university courses are offered in English for the right reasons, such as adding value and providing benefits to the labor market.

Dutch is spoken by about 22 million people worldwide. It is the official language of the Netherlands, Belgium, Suriname in South America and the Dutch Antilles.
<div class="opinary-widget-embed" data-poll="should-countries-take-special-steps-to-p" data-customer="deutschewelleeng"></div> <script async type="text/javascript" src="//widgets.opinary.com/embed.js"></script>
Each evening at 1830 UTC, DW's editors send out a selection of the day's hard news and quality feature journalism. You can sign up to receive it directly here.
kw/kms (AFP)