The policeman - who was only identified by various initials in local reports - said he had become excited to learn that #link:18972597:the Barcelona player# was passing through Dubai airport on his way to receive the top player award at the Globe Soccer Awards.
In recounting the December incident, he said Messi's bodyguards told him the athlete was too tired for a souvenir photo but had no objections to him snapping a quick video of the passport that was lying on a desk.
He posted it to Snapchat with the tongue-in-cheek message: "Shall I burn the passport or just put it back!"
What he did not anticipate was the video would go viral. The soccer star's travel document soon reverberated across the Twittersphere.
At his sentencing the police officer admitted it had been a dumb error in judgment.
"I have no idea how it got circulated," the man said in court, Abu Dhabi's The National newspaper reported. "I was just kidding and had never done this thing with anyone else before. I was wrong and I promise I would never repeat such a behavior."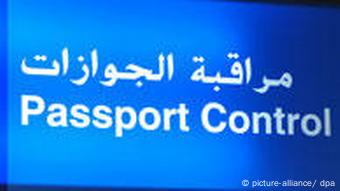 Dubai Airport passport control
Among the biggest names in soccer
A fellow policeman testified last month that his colleague should have known better.
"I don't know why he did that, he knows it's not allowed. We all would love to have a picture with Messi, but it's not allowed," the 31-year-old officer told the court, The National reported.
The Emirati officer - who reports say has been a policeman since 2007 - was sentenced to a month in jail.
jar/ rg(AFP, AP, The National)