Berlin's reputation as a party hub is long-established, but for the first time on Wednesday the city's government released a study on the consumption of party drugs throughout the city. The report from the city's public health office and Berlin's prestigious Charite Hospital shone a light on just how much heavy drug use permeates the city's club scene.
Of Berlin's partygoers, more than half (50.3 percent) admitted to using amphetamines and almost half ecstasy/MDMA (49.1 percent) within the last 30 days. The next most popular party drugs were cocaine (36 percent) and ketamine (32.3 percent).
About 12 percent of clubbers said they used the hallucinogen LSD, while 9.4 percent reported using GHB, which is meant for use in treating narcolepsy.
The study found that other substances are also consumed in abundance. It found 87.7 percent of respondents said they had imbibed alcohol in the past month, 72.3 percent had smoked cigarettes and 62.3 percent had ingested some form of cannabis.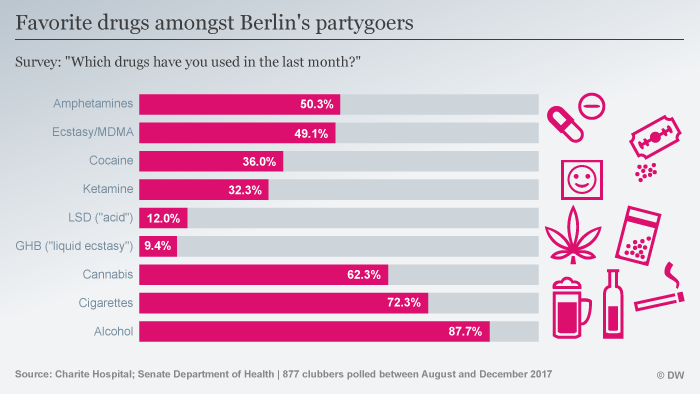 Read more: Berlin exhibition on 'brave' African drug dealers courts controversy
Local drug takers
One of the more surprising revelations in the study was that the drug abuse was not carried out by pleasure-seekers coming to the German capital for a weekend of fun. Some 85 percent of those surveyed lived in Berlin, and nearly 40 percent had a university degree. There was a relatively even split along gender lines – 55.3 percent male and 42.8 percent female.
Despite the high levels of drug use, almost no one in the survey identified as an addict. Instead, they said, they took drugs to influence their mood, stimulate their physicality or stay awake throughout the night.
Berlin's partygoers stayed away from the hardest drugs available; almost no one admitted to using heroin or crystal meth.
"I do not want to demonize clubs and club visitors. But we should not blind ourselves to the high consumption of risky drugs in the party scene," Berlin's chief health official Dilek Kolat said.
The study surveyed people inside Berlin's nightclubs and bars or standing in queues outside them.