Wherever he looks, Burhan Semakula sees misery and hardship. "The crops have withered. It is very difficult to get hold of food. The livestock are also suffering and we are having to move them in order to protect them from the drought," he said.
Semakula is a teacher in Uganda's Luwero district, where 85 percent of the inhabitants live off the land. But that isn't possible without rainfall. "Our food is running out," he said.
The rest of the country is also feeling the impact of the drought. "If nothing is done, it will have an adverse effect on economic growth," Ugandan Finance Minister Matia Kasaija warned. The food shortage is also putting a strain on the national budget. "Perhaps we will have to cut back on other areas, so that no Ugandan dies of hunger," he said.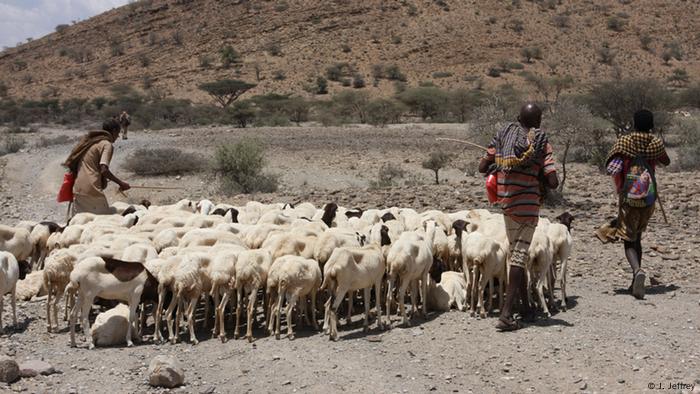 Pastoralists - as seen here in Ethiopia - can no longer fetch adequate prices for their livestock
Around 34 million Africans have been hit by drought. The situation in Kenya, Ethiopia and Somalia is particularly precarious. Twelve million need food aid and all three countries have experienced devastation wreaked by El Nino's extreme weather patterns. "This has created a humanitarian crisis," said Shukri Ahmed from the Food and Agriculture Organization of the United Nations (FAO). "The current drought is expected to aggravate the already difficult situation," he warned.
The drought is expected to become even more severe in the coming months, and the number of people suffering from hunger is set to rise accordingly. A new drought is forecast for parts of Kenya in 2017. There hasn't been any proper rainfall in some areas for more than year. "Cities in northeastern Kenya, such as Garissa, Wajir or Mandera, are among the worst affected regions," said development expert Titus Mung'ou. "Pastoralists there have lost more than 100,000 head of cattle."
Double blow
Northern Kenya is one of the country's poorer regions and most inhabitants depend on their livestock in order to survive. The drought has dealt them a double blow. Their herds have been weakened by hunger, and they are therefore unable to sell them at an adequate price. Prices are dropping because more and more pastoralists are putting livestock on the market. Meanwhile, the drought is forcing up the price of food, adding to their misery.
Kenyan villagers build a dam to save precious rain water when it comes
In Ethiopia, five million people are in need of aid. The drought is impinging on people's lives there in multiple ways, including schooling. Negash Ullala from the educational authority in Guji has had to close down two schools, as it was difficult to keep classes going when people were leaving. "The pastoralists who lived in this area moved with their children to find water and grass for their cattle." A total of 52,000 children in 186 schools have been affected by the drought.
Need to adapt
Aid organizations say time is running out. They want to tackle the crisis by supplying seed, food aid or water for the livestock. But long-term assistance is also needed. Extreme weather conditions are recurring more often than in the past because of climate change.
"We are trying to find ways to alert the pastoralists to what is happening. They are going to have to adapt to the changing climatic conditions," said development expert Titus Mung'ou from Kenya. That includes stocking up on reserve supplies during the rainy season. Access to seed and fertilizer is also important. "Climate scientists should be working closely with the pastoralists," he said.
Zainab Aziz, Tsehay Filatie and Lilian Mtono contributed to this report