About 20 women are crammed into a barren area in the village of Munigi at the foot of Mount Nyiragongo in eastern Congo. Aside from tables and chairs, there are only two sewing machines here, which are to be used for training purposes. Trucks rattle past the open door. Some of the women have brought their young children. They discuss their problems with two employees of the aid organization, Aidprofen. Their stories are similar: they were raped, became pregnant, were abandoned by their families and socially ostracized. Many were forced to stay with acquaintances or strangers – some even slept outdoors or in pigsties.
Yvette, who does not wish to give her real name, is a 20-year-old mother. She has tied a colorful scarf to her skirt, which her 4-year-old son grips on to. "His father died," she says curtly. Passy Mubalama, the founder of Aidprofen, sits on a wooden chair in jeans and a black and white top and listens. She knows there is something wrong with Yvette's story. She puts her hand on Yvette's knee and jokes with her to make her feel more at ease so that the young woman is able to talk about something that is common here but remains a taboo topic: rape. "Tell the truth!" Mubalama demands.
Knowing your rights and how to defend them
The 34-year-old knows how to ask the right questions. She was a journalist who reconstructed stories of raped women rescued in refugee camps. She was shocked by what she heard and wondered how she could help these women. In 2014 she launched Aidprofen, which, according to her, is "a program which educates women about their rights, because the more you know your rights, the better you can defend them."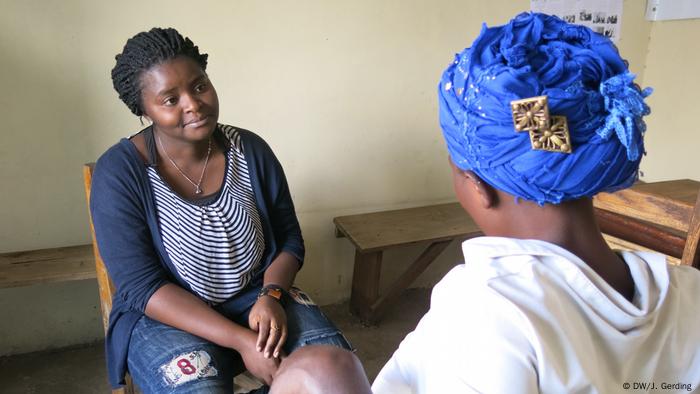 Passy Mubalama founded the organization Aidprofen to help women affected by rape in the DRC
The prevalence of rape in the Democratic Republic of Congo (DRC) is among the highest in the world. According to a study published in the American Journal of Public Health in 2011, more than 1,000 women are raped every day in the DRC. Many victims find themselves trapped in a vicious cycle of poverty, disease and prostitution. Aidprofen counsels those who have been affected and takes care of their psychological needs. The organization also publishes studies on issues such as the illegal exploitation of minors in brothels. Above all, however, the main role of Aidprofen in women's centers like the one here in Munigi, is to look after the victims of sexual violence.
Raped and rejected
Little by little, Yvette opens up and tells Mubalama about the time she and two of her friends went to the fields for the bean harvest and encountered uniformed men. Yvette was held down by two of the men, raped and left unconscious. Her friends managed to escape. Later they returned and brought Yvette home. She told her mother, who had noticed that something was wrong, that she just had a headache. "I was ashamed to tell her what had happened," Yvette recalls. "I thought my mother might kill me."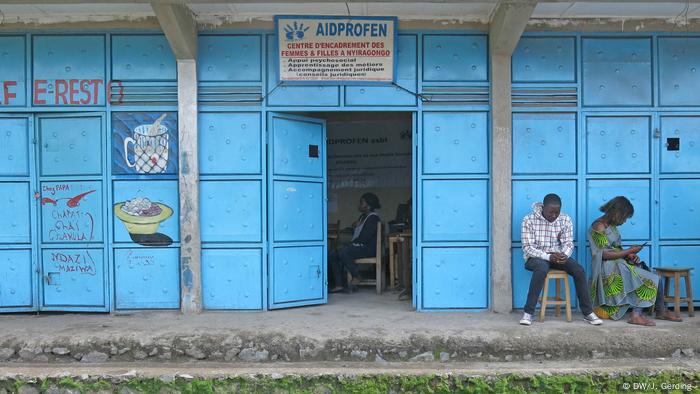 The sign above the Aidprofen office promises psychological and legal advice as well as technical training
Her mother did not accept her explanation. She learned from Yvette's friends that her daughter had been raped. "She was very, very upset," says Yvette. Her daughter might have AIDS and be pregnant. That would be a shame for the family – and costly. But if she were to get married then her family would not only get cows and goats in return, but the man must also provide for her daughter and their future children. Yvette's mother brought her to the door and said, "Go to him, if you know where his family lives, and tell him that you have a child with him."
Yvette went on to live with friends of acquaintances – until it either became too much or her mother told them about the rape. She soon had no choice but to sleep on the floor of the kitchen adjoining her mother's house. It poured with rain. To earn money she cleaned, cooked – and sold her body. She earned 5,000 francs for this – just over $3.
From victim to mediator
Word had spread in Yvette's neighborhood about a woman known as "Mama Acheni," who was campaigning for Aidprofen. So Yvette went and introduced herself to her. Thirty-seven-year-old Acheni Fitina, who lives in a small hut in the area, looks older than she is. She has already given birth to nine children – the sixth was conceived as a result of rape. "My husband hated me for that," says Acheni. "The child was discriminated against, compared to the others." After hearing her story, Acheni visited Yvette's mother again and again. She talked to her about her daughter's poor health and how raped women are not worthless. One day, the child could become something – perhaps even a member of parliament – and would run a good household.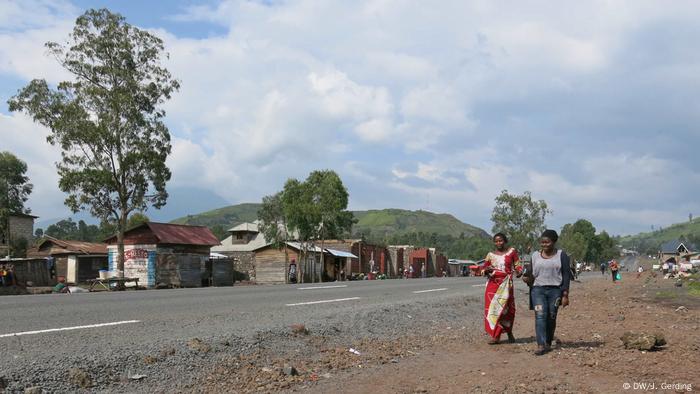 Passy Mubalama and Mama Acheni speak with the families of victims in the hope of reducing the stigma attached to rape victims
Acheni insists that other women do not have to engage in a bitter, often hopeless fight against their families. To achieve this, she approaches the situation strategically: "I always ask the single mothers which family members they are most comfortable with," she says. "Then together we visit the parents of the single mother." In the end, Mama Acheni succeeded in convincing Yvette's mother to break with the convention of ostracizing her. Yvette was allowed to leave the kitchen in the backyard and move back into her mother's house. "Today, my mother accepts that I sleep with my child next to her," she says.