Director Rian Johnson unveiled the trailer at the "Star Wars Celebration" fan event in Orlando, Florida. The two-minute clip shows Rey, portrayed by English actress Daisy Ridley, learning how to use the Force. A voice, which appears to be protagonist Luke Skywalker, played in the movie franchise by Mark Hamill, appears to be instructing her.
The video ends with the ominous message "It's time for the Jedi to end," sending fans online into speculations as to where the narrative of the latest installment of the space saga might lead.
Shrouded in mystery
Disney has been teasing snippets of footage and releasing production stills from "The Last Jedi" for a while, having revealed over a year ago that the eighth installment would take longer than was originally planned to be released.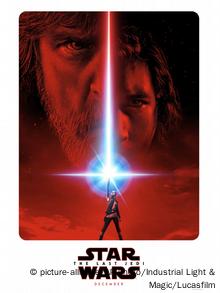 The trailer for "The Last Jedi" was dropped eight months before its release
The trailer, however, received close to half a million views on YouTube in the first few hours being posted, while #TheLastJedi became the top trending hashtag worldwide.
Although the teaser revealed little about the film, "The Last Jedi" seems to pick up where the previous episode, "The Force Awakens," left off. Daisy Ridley said at the "Star Wars Celebration" event that the newest episode would deeply explore her character Rey. Co-star Hamill confirmed that the narrative was a slight departure from focusing on Luke Skywalker's journey:
"To a certain extent, it's not Luke's story anymore. But I think he's an important part to the overall arc of the saga and again, there's a lot of mystery about him, even within the film," said Hamill. "The Last Jedi" producer J.J. Abrams, who previously had directed "The Force Awakens," hailed Mark Hamill's performance in the film, saying it could land him an Oscar nomination.
Return of Carrie Fisher
The film will also star Carrie Fisher, who made the franchise famous in her role as Princess Leia. Fisher died in December after finishing the production of "The Last Jedi." She is briefly seen in the trailer.
Fisher's daughter, actress Billie Lourd, came to the event in Florida dressed in a mini version of Fisher's iconic gown in the film as a tribute to her mother.
ss/bw (AP, AFP)