The vast majority of migrants from sub-Saharan Africa are trying to escape poverty, unemployment and food insecurity. The warmer weather and calmer seas of summer result in a surge in the number of asylum seekers putting their lives at risk while attempting to cross the Mediterranean Sea by boat. When the European dream does not turn out as expected for those who survive the trip, some opt to make a U-turn and return home.
Mantany Dieye from Senegal is one of those who decided to return. He spent 11 years living in Spain as an illegal immigrant. While there, he sold cheap knock-off watches and bags on the beaches for a living. He returned to Senegal six months ago through a voluntary repatriation scheme. Dieye, now 46, received a small grant to set up a grocery business in one of Dakar's markets. He told DW he had left at the end of 2005 to go to Europe to be able to find work to feed his family. " I knew no one and I didn't know where I was going. I left by boat. I don't know where the boat left from, I didn't know Dakar, they just told me we were going to Spain," Dieye said.
Hopes dashed
As a young man living in northern Senegal, he thought travelling to Europe by boat was his only way to secure a better future.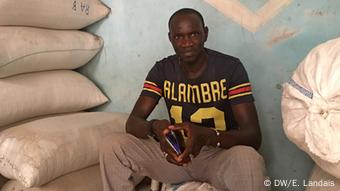 For Mantany Dieye it was time to go back home after a decade of misery
"I thought it was paradise there because when you work you get paid. But with the financial crisis it wasn't like that. I was an illegal, I had nothing. I tell those who plan to leave that they should stay here and find a solution here. But it's so hard here that they don't believe me," he said.
Like many others, Dieye saved as much as could for 10 years until he had 800 euros ($887) that would buy him a sea crossing to Spain. It took him and 95 others seven days to reach Spain's Canary Islands. Those planning to travel to Europe often keep it secret. Dieye did the same, "I didn't tell anyone that I was leaving," he said. "My wife wouldn't have let me go. I didn't want my family to sense what I was going to do, they would have stopped me. I called them once I arrived. They cried because they didn't want me to go." In Spain Dieye lived in a cramped four-room apartment with seven other Senegalese. After deciding to return to Senegal, Dieye approached the repatriation operation jointly organized by the International Organisation for Migration (IOM) and the Senegalese government, who flew him back.
Today, he says it was the best decision he had ever made. "I am never going back, I'm done. Every day over there I was suffering. I regret going and leaving my wife for 11 years. What I thought I would make working in Europe I never made - I had no money and the work was hard."
Patrols have now been put in place to stop boats leaving from the coast of Senegal, so would-be migrants now travel overland. The IOM puts the number of Senegalese who reached the Mediterranean coast in 2015 at 5,000.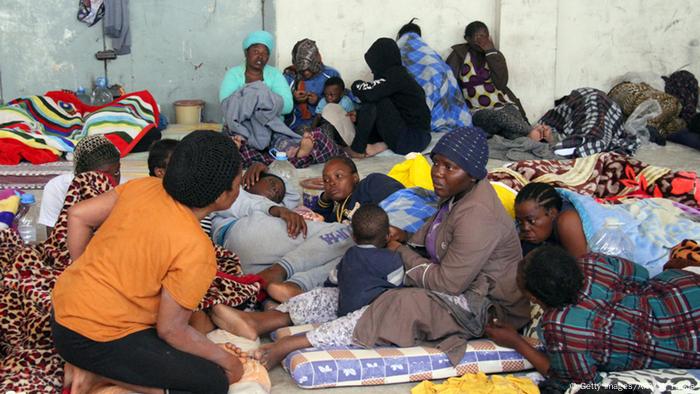 For many African migrants, the journey ends in Libya
Little help for returnees
According to Jo-Lind Roberts-Sene, country director for IOM in Senegal, "There's a slight increase of Senegalese arrivals in Italy. The increase has been sort of gradual from 2014 onwards. The route has very much changed. 10 years ago it was almost only by sea, attempting to reach the Canary Islands, and now it's very much Senegalese leaving from Senegal over to Niger and Burkina Faso and then going up towards Libya. The sea route is now unused." Since the beginning of this year, more than 2,500 Senegalese made it to detention centers in Italy, but for thousands of others the journey stops in Libya. Some then opt to go back home. A handful of migrants receive financial support from the IOM. Roberts-Sene said that the beneficiaries of this program often turn to IOM as the last resort.
Back in Dakar, returnees are given just a sandwich and 150 euros in aid from the government. Boubacar Seye, president of the organization Horizon Sans Frontiere, says this is deplorable. Speaking to DW, Seye said that, "Today there is a need to create training and job opportunities to retain these young people through a strategic approach. But all that suits them here is when they get a call from Europe to give them funds to fight illegal immigration. These funds do not benefit those who need to be helped. And this is where we call for these funds to be audited because if there is no monitoring, then it's absolutely useless."
Since the beginning of 2015, Senegal has repatriated more than a thousand migrants. In Europe, the migration crisis has caused significant political rifts within and between the countries most affected. Some have put up fences and re-imposed border controls.