A detained Hong Kong bookseller at the center of a growing dispute between Sweden and China on Friday accused Stockholm of using him as a "chess piece" in an interview slammed by journalists and rights groups as coerced.
In the media appearance arranged by the Chinese Ministry of Public Security, Gui Minhai, who has dual Swedish-Chinese citizenship, said he never wanted to leave China and that Sweden had been exploiting his case to "create trouble" for the Chinese government.
"I have seen through the Swedish government. If they continue to create troubles, I may consider giving up my Swedish citizenship," he said, saying that some Swedish politicians might be seeking "political gains" in an election year.
The interview appeared to have been organized by Chinese authorities in response to comments made on Monday by Swedish Foreign Minister Margot Wallstrom, who slammed Beijing's "brutal" treatment of Gui.
This came after several other milder calls for his release from Sweden, echoed by Germany, the European Union and the United States.
Read more: Hong Kong's 20 years under Chinese rule – A failed project?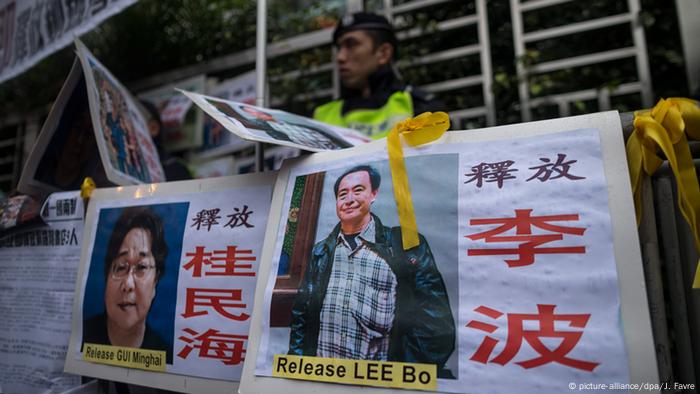 Several booksellers in Hong Kong been arrested by Chinese authorities in the past years
Calls to continue
A spokesman for the Swedish Foreign Ministry told media that Gui's comments would have no effect on further pleas for him to be freed.
"We have a clear demand that he be set free so that he can meet his family," Patric Nilsson told the Swedish news agency TT. "Those demands remain."
The Sweden and Denmark director of Human Rights Watch, Mans Molander, was among those to pan Gui's appearance as staged.
Previous arrest
Gui was arrested in January by plainclothes agents while on a train with Swedish diplomats who were taking him for medical treatment. According to Gui's daughter, Angela Gui, he has amyotrophic lateral sclerosis, also known as ALS.
In his interview, Gui said that the Swedish officials had been attempting to get him out of China.
Previous to his current detention, Gui was released from a Chinese prison in October after completing a two-year sentence for allegedly killing someone in a drink-driving accident. During his stay in jail, he issued a televised confession in which he said he was being legally held and was "willing to accept any punishment."
Gui is known for selling books containing gossip about top Chinese leaders, with some saying that this explains efforts by Chinese authorities to silence him.
Several booksellers in Hong Kong have been arrested over the past few years by Chinese authorities.
tj/jlw (AP, dpa)