It was a major announcement: Only 30 kilometers (18.6 miles) from the capital Abu Dhabi, a new city was to be built in the desert. Masdar, as it was dubbed, was to be an ecological city, a model of climate-friendly urbanity for the future.
Abu Dhabi has more than 10 percent of the world's oil reserves and for the next 100 years won't have to worry about running out of that precious natural resource. But still, the Gulf state wanted to show the rest of the world how a future without oil could look like.
In 2006, planning for Masdar City began. A town that would cause no CO² emissions, which would get its energy from renewables, would recycle all its waste and have no traditional cars on the roads. Mobility was to be guaranteed by an electric mass transit system, which would take care of both passenger and cargo transportation.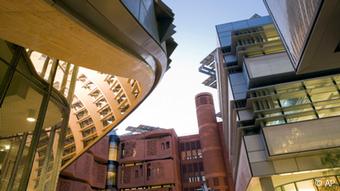 Masdar is supposed to blend futuristic modernity with sustainability
It was to be a friendly city, with a high living standard, right in the middle of the desert. A place where pedestrians were to have plenty of space with lots of greenery providing shade. Renowned architects, like Norman Foster, were involved in the planning of the futuristic model city. In 2008, work started, and the plan was to have the city finished by 2016, providing homes for more than 40,000 residents with an additional 50,000 commuters coming into the city. The price tag for the project: Around $22 billion (17 billion euros).
Today, only a small part of the visionary project has been completed. There is a model block of six buildings which already house the Masdar Institute of Science and Technology with around 60 employees and 240 students. Five years from now, there are xsupposed to be almost three times as many students there. According to officials, however, the whole city will not be finished before 2025.
A silicon valley for sustainable technology
There are numerous visions linked to the Masdar City project. One is to have the high-tech town near Abu Dhabi's international airport become a Silicon Valley for sustainable technology, a center for renewable energy, which would attract scientists, students and companies from around the globe.
In order to realize this green vision, Sheik Mohamed Bin Zayed Al Nayan, Crown Prince of Abu Dhabi, selected the economist and engineer, Sultan Ahmen Al Jaber, to be in charge of Masdar. Al Jaber launched a number of strategic partnerships, a list of which reads like a Who's Who of renewable energy experts and researchers.
There is, for instance, the renowned Massachusetts Institute of Technology which helped set up the international university degree program for sustainability in Masdar. The German Fraunhofer Institute for Building Physics and Solar Energy Systems (IBP) is supporting the construction of a testing facility in Masdar.
Al Jaber also won over the German engineering giant, Siemens, as a strategic partner. A building for some 2,000 Siemens employees has already been started and was to be completed by 2012, but the project got delayed, and now it does not look like Siemens staff will moving in before 2013.
"A green Disneyland"
By now, doubts about the model city have spread. "The whole project is just a big show," an international energy expert told Deutsche Welle on the condition that his name not be used. "So far, there's nothing of that symbolic significance that Masdar was supposed to have," he said.
An eco-city in the desert? Critics warn it might be a waste of money
Another expert who actually worked at Masdar for several years, told DW about numerous planning flaws; for example, that some solar panels on the roof of the showcase buildings were actually in the shade which means they produce significantly less energy. Also, he said, the lighting in the city at night had been a problem. For months, the lights were not only on during the night but also during the day and it was impossible to switch them off.
The list goes on and on. The whole project was just a "green Disneyland," as one of the critics, who wished to remain anonymous, summed it up. "Otherwise, you could get in trouble in Abu Dhabi," he explained.
Doubts over sustainability
Some energy experts are critical of the project, despite the innovative approach. The money, they argue could have been better spent on other projects. There were simpler solutions, they believe, which would have benefited the local Bedouins. If their houses had been better insulated, or equipped with solar panels, it would have been better for the environment and for them - and it would been more effective and sustainable.
To show that a CO² neutral energy supply with renewables is possible, would not have required such a gigantic project, the critics argue.
And the doubts over Masdar are on the rise. With emissions of 28 tons of CO² per capita per year, Abu Dhabi, as a whole, is one the worst polluters of the world.
Even now, six years after the planning for Masdar began, there are hardly any solar panels to be found anywhere in Abu Dhabi outside those in the model city. No laws or incentives exist for private home owners to have solar panels, despite the fact that there is an abundance of sunshine all year round.
Critics, therefore, see Masdar first and foremost as a clever project to improve Abu Dhabi's image, but it remains one of the world's worst polluters.