A man who beats his wife, but manages to leave only bruises or abrasions, will no longer be guilty of a crime in Russia, rather simply an administrative offense. On Friday, Russia's lower house of parliament, the Duma, passed a controversial bill known as the "slapping law." If the upper house and President Vladimir Putin agree, then mild cases of domestic violence will be met with mild consequences.
Among those who crafted the bill is Yelena Mizulina, a member of parliament for the Just Russia party who is known for her strong conservative views. Mizulina sees slapping as an "educational measure" and wants to do away with inequality. "If someone slaps an unruly child, they could face one or two years in prison," Mizulina said in parliament at the start of January. "But if a neighbor were to do that, all they face is an administrative offense."
Thousands of victims of domestic violence
Human rights advocate Anna Rivina, head of the project "Nasiliju.Net" (No to Violence) says there is a good reason for such inequality. "In a relationship between family members, the situation for the victim is much more difficult than when there is an altercation on the street," she said. "When the violence comes from a family member, you can't just go home and hide."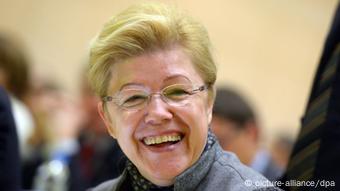 Mizulina considers slaps an 'educational measure'
The term "domestic violence" that is so widely used in the West does not exist in Russian law, even though the phenomenon itself is very widespread in the country. Around 40 percent of all serious crimes occur within the confines of the family, said Rivina, citing police statistics. In 2013 alone, around 9,100 Russian women died as a consequence of domestic violence. Another 11,300 suffered severe injuries. And that's just the tip of the iceberg, Rivina says.
Encouraging violence in the home?
One woman who wishes to remain anonymous told DW about her own experience with domestic violence. "I called the police many times when my drunken husband would beat me or our children," she said. "Each time, I ended up writing a declaration against the introduction of criminal penalties." She says that it was her choice and that she only involved the police so that her husband would calm down faster. It worked, she says, adding that the new law won't change anything for her.
But it will change things for Natalia Nusinova from Moscow. In 2014, the man she was living with hit her. He threatened to throw her out of their high-rise apartment. When she defended herself with a knife, she hurt her attacker. Now, she faces up to 10 years in prison for grievous bodily harm. She wants to see a law that is tougher on the perpetrators and that better protects the victims.
Foreign criticism unwanted
The new law hasn't just elicited criticism from human rights activists in Russia, but also abroad. After the first reading of the bill in parliament, the Secretary General of the European Council, Thorbjorn Jagland, sent a letter to the leaders of the Duma. He expressed his concern and called on them to protect women and children from domestic violence. Duma Chairman Vyacheslav Volodin rejected the letter as foreign interference in a domestic issue. He referred to a survey by the state opinion research institute WZIOM, which concluded that 60 percent of Russians supported more mild punishment for domestic violence. Most of those surveyed (79 percent) said they were against any form of violence within families. But every fifth respondent said it was acceptable under certain circumstances.