Extreme weather warnings were issued in parts of Europe as more blizzards hit on Thursday.
Since last Friday, when the freezing weather began, 21 people have died in Poland, six in the Czech Republic, five in Lithuania, four each in France and Slovakia, two each in Italy, Serbia and Romania and one each in Slovenia and the Netherlands. Even countries used to dealing with extreme weather such as Denmark and Sweden have recorded the worst conditions of the winter.
Record snowfall of 182 cm (72 inches) hit the northern Croatian town of Delnice.
A jump in temperatures over the Arctic has weakened the jet stream that usually carries warm air in from the Atlantic. As a result, a strong blast of cold air from Siberia has brought the snow and blizzards in from the east.
Called the "Beast from the East" in the UK, the "Siberian Bear" in Holland, "Snow Cannon" in Sweden and "Moscow-Paris" in France, it has brought freezing temperatures and snow from Romania's Black Sea ports to Spain's Catalonia and France's Corsica and Biarritz. Italy's Naples has seen the most snow since 1956.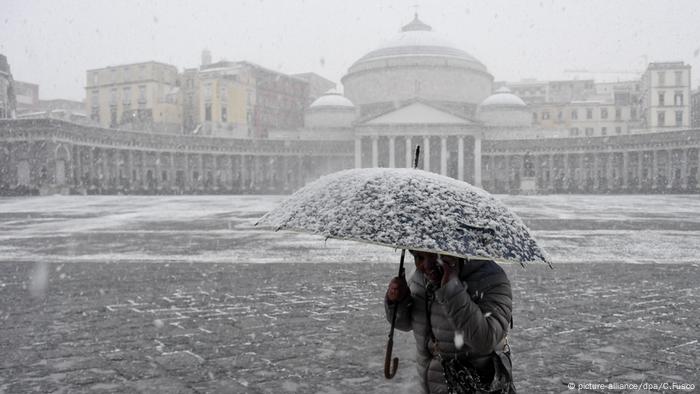 The most snow in Naples, Italy since 1956
Out in the freezing cold
A number of those who have died in the cold weather were homeless people, and emergency shelters across Europe have opened to protect people who would otherwise be sleeping out in the open.
The head of Germany's BAG W national homeless association urged shelters to open during the day as well as at night. "You can die of cold during the day too," Werena Rosenke said.
In France, 50 regional lawmakers were planning to spend Wednesday night on the streets in Paris to protest the "denial of dignity" suffered by the estimated 3,600 homeless people in the French capital.
A 75-year-old Dutchman died when he went out to skate, only for the ice to crack beneath his feet. Three Dutch children and two adults were rescued from similar situations on Wednesday.
Temperatures across Europe fell to below -20 Celsius (-4 Fahrenheit) overnight into Wednesday and overnight Sunday to -40C in the Italian Alps at Campoluzzo.
Even snow-savvy Switzerland was taken aback by the amount of snow and the freezing temperatures, with the airport in Geneva temporarily closed on Thursday.
Belgium and Switzerland both recorded their coldest nights of the winter so far. The coldest-ever temperature recorded in Switzerland was -41.8C in January 1987 in La Brevine village, Neuchatel.
The Norwegian municipality Folldal in the south-eastern county of Hedmark on Thursday recorded Europe's coldest temperature - the mercury there also plunged to -41.8C.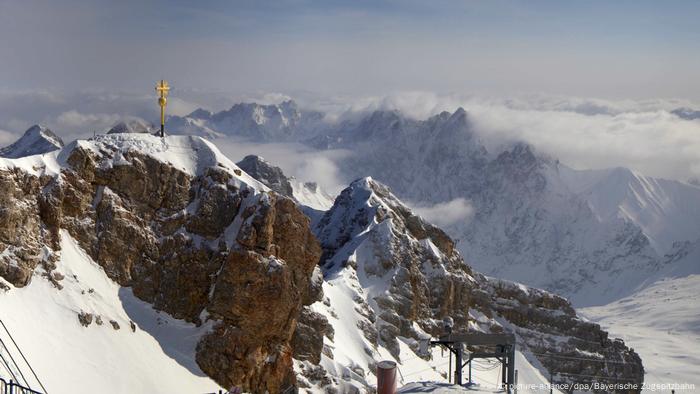 A record-low temperature of -30.4C was recorded on Germany's highest mountain, Zugspitze on Tuesday night
The highest, red weather warning alerts of a risk to life were issued in Ireland and Scotland on Wednesday and Thursday where people were encouraged to stay at home. Schools and universities were closed on Wednesday and Thursday while transport networks shut down on Wednesday afternoon. Total snowfall may reach 25 cm (10 inches) by Thursday.
Britain's National Rail said all train services would be cancelled late Thursday and early Friday in areas with red alerts. Many flights were cancelled at Europe's biggest airport, London Heathrow as well as at Gatwick Airport.
London has hit by snowstorms.
A thaw, and more storms from the south through Portugal and France are expected through the weekend.
Winter weather in Dublin, Ireland brought public transport to a halt with a red alert
ng,jm/sms (Reuters, AFP)
Each evening at 1830 UTC, DW's editors send out a selection of the day's hard news and quality feature journalism. You can sign up to receive it directly here.