David Hasselhoff, who memorably played atop the Berlin Wall in November 1989, renewed his campaign on Thursday to save a portion of the wall from overdevelopment.
The Baywatch and Knight Rider star released a video message from Los Angeles calling on Berlin Mayor Michael Müller to halt the construction of a high-rise building next to the East Side Gallery — a 1.3-kilometer (0.82-mile) section of the wall covered in paintings and preserved as a monument to freedom.
"Don't build any more buildings by the Berlin wall," Hasselhoff asked Müller in English. "They're trying to build a monstrous building on the death strip ... Stop the Berlin Wall being destroyed by buildings all around it."
Hasselhoff said he planned to join Berlin protests against development.
Read more: What Germany's music charts say about its soul
Former death strip
His video was published in promotion of a petition by the East Side Gallery Alliance to stop development group Trockland Management from building a mixed-use tower behind the East Side Gallery on the banks of the River Spree. The narrow strip was once part of an area known as the death strip, a bleak fortified area in which border guards had shoot-to-kill orders for defectors.
"It is essential that the East Side Gallery survives as a monument and that the skyline is maintained as free and open. The planned hotel complex would tower over the Gallery like a malevolent shadow and would effectively be the death of the East Side Gallery," the petition claims. More than 40,000 people have signed it.
Hasselhoff became involved in protests against development in 2013, when thousands of people rallied unsuccessfully to halt development of the area and a partial demolition of the wall needed for construction access.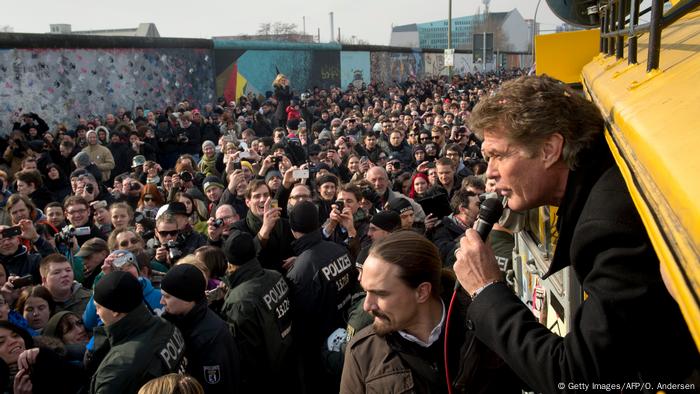 The Hoff first became involved in the campaign to halt development in 2013
The nine-level "Pier 61|63" development would include a 167-room hotel, restaurants and 62 apartments, according to an August report by the Berliner Zeitung newspaper. Trockland Management took over the project after an Israeli investor secured the building permit.
"Trockland is well aware of the importance of the monument and will fulfill the extensive requirements for the preservation of historical monuments in accordance with the building permit," Trockland told the paper.
Trockland's website says construction will be completed by 2021.
Just weeks after the border was opened, but before reunification, Hasselhoff performed his song "Looking For Freedom" suspended from a crane above the wall near the Brandenburg Gate. The song, an English-language cover of German hit "Auf der Straße nach Süden," was the No. 1 hit in West Germany at the time.
Hasselhoff claims that his performance contributed to the reunification of Germany.
aw/msh (dpa, epd)