Fort McMurray is one of the world's largest fracking areas. The town is one of the fastest growing cities in North America. There's a lot of money in extracting "black gold" from the oil sands there. But the costs of exploitation are high too. The process of getting oil from tar sands is complex and releases deadly toxins that poison the land, animals and people.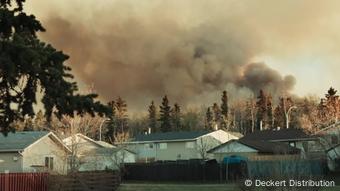 This boom town is anything but a paradise! Yet this is the place where director Jasmin Herold found the love of her life, her future co-director Michael Beamish. But soon, Michael became severely ill, and the couple's own nightmare began.
Two years later, we Herold was still in Fort McMurray, carrying out research in this inhospitable place where winter temperatures average minus 20 degrees Celsius. She was trying to find out how high a price people are willing to pay for a better life. Yet when devastating forest fires struck the region in 2016, Herold and her husband got out. In a poetic style and with disturbing images, this documentary tells their story and the tales of prospectors from all over world who came seeking their fortunes in "black gold."

Broadcasting Hours:
Part 1:
DW English
FRI 04.09.2020 – 01:15 UTC
FRI 04.09.2020 – 05:15 UTC
SAT 05.09.2020 – 15:15 UTC
SUN 06.09.2020 – 19:15 UTC
MON 07.09.2020 – 09:15 UTC
Cape Town UTC +2 | Delhi UTC +5,5 | Hong Kong UTC +8
Lagos UTC +1 | Cape Town UTC +2 | Nairobi UTC +3
San Francisco UTC -7 | Edmonton UTC -6 | New York UTC -4
London UTC +1 | Berlin UTC +2 | Moscow UTC +3
DW Deutsch+
MON 07.09.2020 – 09:15 UTC
Vancouver UTC -7 | New York UTC -4 | Sao Paulo UTC -3

Part 2:
DW English
FRI 11.09.2020 – 01:15 UTC
FRI 11.09.2020 – 05:15 UTC
SAT 12.09.2020 – 15:15 UTC
SUN 13.09.2020 – 19:15 UTC
MON 14.09.2020 – 09:15 UTC
Cape Town UTC +2 | Delhi UTC +5,5 | Hong Kong UTC +8
Lagos UTC +1 | Cape Town UTC +2 | Nairobi UTC +3
San Francisco UTC -7 | Edmonton UTC -6 | New York UTC -4
London UTC +1 | Berlin UTC +2 | Moscow UTC +3
DW Deutsch+
MON 14.09.2020 – 09:15 UTC
Vancouver UTC -7 | New York UTC -4 | Sao Paulo UTC -3