Alexander von Humboldt and Carl Friedrich Gauss were two of the most brilliant people of their time. In 1828, they both attended the German Scientists' Convention in Berlin.
Gauss, who was 51 years old that year, was considered to be the greatest mathematician of all time. Humboldt, who was eight years his senior, reached global fame with his adventurous expeditions to South America.
Gauss, who wasn't only a mathematician but also mastered physics and astronomy, went on to establish the foundations of Albert Einstein's theory of relativity, which would only come about roughly a century later.
Geologist, geographer and biologist Humboldt meanwhile developed the fundamentals of oceanography, meteorology and topography on the basis of his scientific voyages.
A meeting of two titans
The meeting of these two titans is the starting point of Daniel Kehlmann's bestselling novel, Measuring the World. The story starts off with Gauss reluctantly making his way to the convention in Berlin, having been invited by Humboldt himself.
However, after the first chapter, the book jumps back in time in order to tell both characters' biographies chronologically, with the chapters alternating between Humboldt and Gauss. This pattern continues until the two scientists get to meet at the Berlin convention.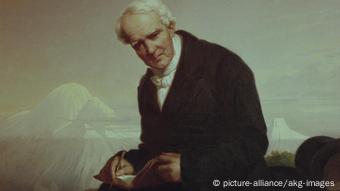 Alexander von Humboldt is one of the most famous scientists in German history
The reader learns that the two protagonists are complete opposites. Humboldt comes from an aristocratic family, enjoyed a classical education, and distinguishes himself in his compulsion for traveling the world. Gauss, however, is a rather simple man with a provincial way of looking at things, who hates the idea of travel and prefers to grasp the inner dealings of the world while sitting at his desk.
Despite being so different from each other, the two geniuses eventually find common ground by complementing each other's knowledge.
Opposites attract
Both scientists are oddballs in their own rights with peculiar views. When grumpy Gauss, with his 17-year-old son Eugen in tow, arrives at the Prussian capital Berlin, Kehlmann sums up the experience:
"They reached Berlin the next day in the late afternoon. Thousands of little houses in a chaotic sprawl, a settlement overflowing its banks in the swampiest spot in Europe. The first splendid buildings were beginning to go up: a cathedral, some palaces, a museum to house the finds from Humboldt's great expedition. In a few days, said Eugen, this would be a metropolis like Rome, Paris or St. Petersburg. 'Never,' said Gauss.'Horrible place!'"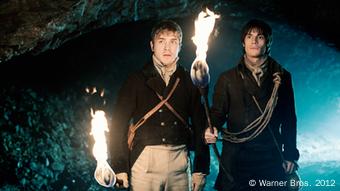 "Measuring the World" was adapted into a movie in Germany in 2012
Not enjoying Berlin is by far not the most eccentric thing Gauss is attributed with in the book. Looking further back into his life, the reader learns that on his wedding night, Gauss had a stroke of genius while he was about to consummate the marriage. In that moment, he pulls away from his wife and rushes to his desk to jot down his most recent discovery:
"As he let his hand slide over her breasts to her stomach and then, he decided to dare it even though he felt he should apologize, on further down, a sliver of moon appeared between the curtains, pale and watery, and he was ashamed to realize that in this very moment he suddenly understood how to make approximate corrections in mismeasurements of the trajectories of planets."
All things German
Daniel Kehlmann likewise approaches the figure of Alexander von Humboldt with the same kind of light-hearted criticism, highlighting his uptight Prussian ways. Compared to the salt-of-the-earth kind of sensitivities of Gauss, Humboldt stands out for being sexually inhibited and rather donnish.
Kehlmann highlights a moment in the life of the traveler as he returns back to his chambers following a cave exploration; Humboldt seems almost spooked as he makes the following discovery:
"He threw open the door to his monastery cell, and a naked woman was there waiting for him."
The scientist-cum-explorer who is so used to charting entire continents suddenly finds himself unable to act in this unexpected situation.
"As she pulled up his shirt, a button tore off and rolled across the floor. Humboldt followed it with his eyes until it hit the wall and fell over. She put her arms round his neck and pulled him, while he murmured that she was to let go, he was an official of the Prussian Crown, into the middle of the room."
Despite being so different from each other, neither Humboldt nor Gauss appear to know how to deal with their own feelings — one thing the two German scientists clearly have in common.
Proof that history can be fun
Rather than just being a novel, Measuring the World is a clever double biography, which entertains and informs at the same time. But there is a deeper meaning to everything as well. Kehlmann thinks of his novel as an "aggressive satire on how to be German."
One of the other times that such German moments are highlighted is when Humboldt misses a solar eclipse, as he is too busy with charting and surveying maps. "There had been no time to look up."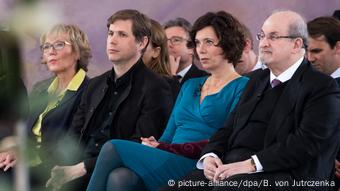 Kehlmann (second from left) attended a reception with German President Steinmeier in 2017 — alongside British author Salman Rushdie (right)
It is impossible to prove whether such moments truly occurred in the lives of Humboldt and Gauss. Kehlmann took poetic license in making up such anecdotes to further his narrative, which is what makes Measuring the World such a good read. The book interfuses fact and fiction and turns the real historic figures of Gauss and Humboldt into highly enjoyable characters.
Daniel Kehlmann studied literature and philosophy, but writing a historical novel wasn't quite what he had set out to do when he came up with the novel. He prefers to think of Measuring the World rather as a "contemporary novel set in the past," he told the German newspaper Frankfurter Allgemeine Zeitung in an interview in 2006.
"I wanted the narrative to sound the way that a reputable historian might sound if he suddenly had gone mad."
At the time of its publishing, Kehlmann was merely 30 years old, yet it catapulted him into the league of being one of the most widely-read German authors of contemporary literature. The book beat the sales records previously held by Bernhard Schlink's The Reader and Patrick Süskind's Perfume.

Daniel Kehlmann: Measuring the World, Quercus/Riverrun (German title: Die Vermessung der Welt, 2005). English translation: Carol Brown Janeway.
Daniel Kehlmann was born in Munich in 1975. He moved to Vienna with his parents when he was six years old. He later went on to study German literature and philosophy there. His first novel was published in Germany in 1997. His first English translation was of his 2005 bestseller Measuring the World, which has been adapted into 40 languages so far and is one of the most successful German books since the end of World War II. Kehlmann wrote his most recent novel in 2017. He lives in Vienna and Berlin.